More time?
Civil rights group files lawsuit seeking extension of Va. voter registration deadline due to statewide computer crash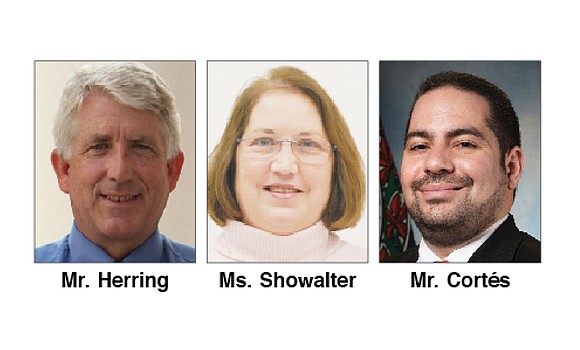 EDITOR'S NOTE: A federal judge has ordered that Virginia's deadline to register voters be extended to 11:59 p.m. Friday, Oct. 21. To be eligible to vote in the Nov. 8 presidential and general election, you must register by the deadline. Applications to register to vote are available at state Department of Motor Vehicles office, public libraries and other government offices or in the local voter registrar's office. Mailed applications must be postmarked by the deadline. You also may apply online. Questions? Contact the Virginia Department of Elections, www.elections.virginia.gov or call (800) 552-9745 and select Option 1. Richmond residents can go to the Richmond Voter Registrar's Office at City Hall, 900 E. Broad St., to register to vote.
Virginia could become the latest state under federal court order to extend voter registration because of a disaster.
The disaster in Virginia, however, is no hurricane, but a computer system.
Hit by a last-minute flood of people trying to register to vote online by the Oct. 17 deadline, the state's computer system crashed Monday and refused to accept registrations for much of the final day.
It's a huge embarrassment for Gov. Terry McAuliffe, who has fought to expand voting, and for the state Department of Elections, its commissioner, Edgardo Cortés, and his staff, who apparently failed to prepare for the surge in registration despite warnings from local registrars across the state.
The Lawyers Committee for Civil Rights Under Law rushed to the courthouse Tuesday evening to file a lawsuit seeking to force the state Department of Elections to reopen the voting rolls for three additional days.
Nationwide, voter interest, registration and turnout is greater during presidential election years than other times. Federal courts in North Carolina and Florida extended voter registration deadlines in those states because of shutdowns associated with Hurricane Matthew.
As yet, no date has been set for a hearing in the federal district court in Alexandria. However, the suit is expected to move quickly now that Virginia Attorney General Mark R. Herring disclosed he would not fight the effort to extend the registration deadline.
In response to a Free Press query, a spokesman for Mr. Herring stated Wednesday: "In light of the significant technical malfunctions that prevented Virginians from registering to vote, the Commonwealth will not object to the request for a temporary extension of the voter registration deadline."

The lawsuit appears to be the only remedy for would-be voters who were blocked from registering.
Both the governor and Mr. Cortés separately noted Tuesday that neither has authority under state law to extend the registration deadline, even after a disaster.
The Washington-based civil rights group stated that the lawsuit "seeks to prevent the disenfranchisement of eligible prospective voters in Virginia, whose right to vote has been impeded due to technological problems with and the systemic breakdown of Virginia's online voter registration website, and the refusal of defendants to remedy the situation."
"Under state law, the voter registration deadline for Virginia residents was Monday, October 17. Eligible citizens who failed to register by 11:59 p.m. on that date cannot cast a ballot that will count in the upcoming November 2016 general election," the suit continues.