VSU Trojans looking for a homecoming win against Lincoln University
10/22/2016, 3:51 p.m.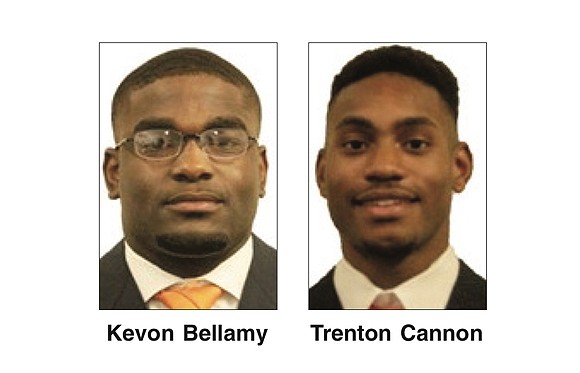 Virginia State University will celebrate homecoming this weekend while still being haunted by a case of "What if?"
The Trojans came so close last Saturday to controlling the driver's seat of the CIAA Northern Division race. Instead, the team's in the difficult position of needing to roll the table while also soliciting help elsewhere.
The Trojans' agonizing 38-37 loss last Saturday at Bowie State University — the Trojans led by 17 points in the third period — leaves VSU 5-2 overall but 2-2 in the CIAA, with three games to go.
On Saturday, Oct. 22, the Trojans will play their homecoming game against the division's perennial doormat, Lincoln University of Pennsylvania.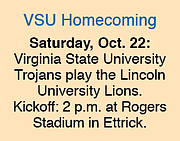 VSU must defeat Lincoln, Chowan and Virginia Union universities in order, and then pray for upsets if it is to win the North Division title for the third time in four years.
The Trojans figure to dominate Lincoln University with their vaunted ground game sparked by Trenton Cannon and Kavon Bellamy.
Cannon had 138 yards and Bellamy 104 against Bowie State, and the Trojans commanded time of possession 34 minutes to Bowie State's 26 minutes.
However, in a late-game fade the Trojans won't soon forget, VSU had no answer for Bowie quarterback Amir Hall, who had 25 for 36 passing, 332 yards and four touchdowns.
VSU had a chance to retake the lead with 5:27 left, but usually reliable place kicker Matt Hillquist misfired on a 28-yard field goal.
Also, accurate quarterback Tarian Ayres threw his only interception of the season in 154 attempts.
Ayres was 16 of 32 in the air, with touchdown throws to Cannon and Christian Harden. It was the third straight game Harden, who is from Hermitage High School, has gotten into the end zone.
Defensively, Trojans linebacker Brandon Lynch had 5.5 tackles for losses, with 2.5 sacks of the elusive Hall.
As it turned out, the Trojans' best way to put the brakes on Hall was by knocking him on his back. VSU sacked the Bulldogs' phenom four times, three times before intermission.
The homecoming game against Lincoln University should provide some relief for the Trojans.
VSU routed the Lions 35-0 in 2015, 63-7 in 2014 and 34-14 in 2013.
Statistics point to a one-sided affair.
VSU leads the CIAA with 244.4 yards per game on the ground while Lincoln University is next to last in rushing defense, with 224.6 yards allowed per game. Look for VSU to roll at will.
That should make the Trojans' homecoming happy, but won't erase the "What if?"