'Queen of Katwe' opens Friday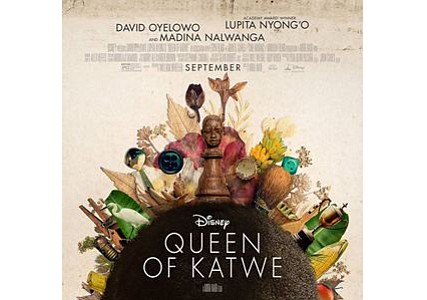 She grew up in one of the poorest spots on earth. She couldn't read or write. As a child, she scrounged for food and water each day for herself, her mother and her brother.


But a chance encounter with a chess coach turned Phiona Mutesi into a rising chess star, the subject of a book — and the protagonist of a Disney movie, "Queen of Katwe," which opens in theaters Friday, Sept. 30.
The inspirational film, which stars Oscar winner Lupita Nyong'o, David Oyelowo and newcomer Madina Nalwanga, already is receiving rave reviews.
Based on an article and book by ESPN sportswriter Tim Crothers, the movie describes Miss Mutesi's remarkable rise with the help of a ministry worker, Robert Katende, who taught her chess when she was just 5.
In interviews, Miss Mutesi has said she only went into the club that Mr. Katende ran to get her brother a cup of porridge, which he offered to any child who would show up and learn the game.

Miss Mutesi found she liked chess and, after a year of practice, began beating older boys and girls.

By 9, she had become a national champion and began representing Uganda at international tournaments.
In 2009, the 10-year-old traveled to Sudan. Then, in 2010, she boarded an airplane to Siberia and had her first encounter with ice and snow. This year, she played in Istanbul.
Her life has been hard. In the slum where she grew up, there is no fresh water or sanitation. For years, she had to wake up at 5 a.m. every day to walk two hours through Katwe to fill a jug with drinkable water for her family, she said.

Her success with chess has begun to change her life. Last year, she received a grant from a program called Sports Outreach that has enabled her to go to school where she is learning to read and write.
"Chess gave me hope," Miss Mutesi told an interviewer, "whereby now I'm having a hope of becoming a doctor and a grandmaster."