Va. SCLC lauds racist U.S. attorney general for civil rights work on anniversary of Dr. King's death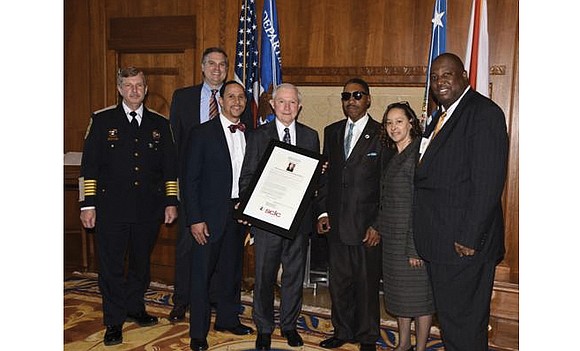 "The attorney general's record speaks for itself, and I haven't seen any changes in his attitude since he took office. There has been no repentance or attempt at reconciliation. I haven't seen anything that shows me that he is seeking change on justice issues or race relations."
According to Rev. Keen, the meeting was orchestrated by Andrew Shannon, state SCLC vice president, and the Rev. Dean B. Nelson, chairman of a pro-life, Republican Christian group, the Frederick Douglass Foundation.
Rev. Nelson was among the members of the delegation that also included York-Poquoson Sheriff J.D. Diggs and York County Supervisor Chad Green, an SCLC member and supporter of Mr. Sessions who apparently also reached out to him to schedule the meeting.
Rev. Keen rejected the criticism of Mr. Sessions, saying it was misplaced.
"I feel when we look at his record, we see that it stands for merit and support of civil rights," he said.
The 60-year-old pastor of Traynham Grove Baptist Church cited Mr. Sessions' support while a U.S. senator for reducing federal sentences involving crack cocaine convictions, and his push as a prosecutor to seek the death penalty against a Ku Klux Klan member in Alabama for killing an African-American teenager.
He also recalled then-Sen. Sessions' support for providing the Congressional Gold Medal for Rosa Parks, the "mother of the Civil Rights Movement."
Mr. Sessions "deserves credit for what he has done," said Rev. Keen.

In addition, Rev. Keen believes the state SCLC chapter is doing what Dr. King would have done — to start talking to the people in power.
Rev. Keen noted that with Republicans in control of the White House and Congress, civil rights groups must begin to focus on building ties with the likes of Mr. Sessions and others in the Trump administration.
"That's what we need in civil rights," he said.
He said he was delighted that Mr. Sessions spent 45 minutes speaking with the delegation and was prepared to listen to their concerns.
"He listened intently," Rev. Keen said, to the issues he and his group raised.
He said he was most pleased that he was able to bring to the attorney general's attention a proposal by Virginia Congressman Bob Goodlatte, a Republican and chair of the House Judiciary Committee, to reinstate a rule that would allow people who file civil rights suits to be fined and forced to pay attorneys' fees if their suit is dismissed as frivolous.
He said he asked Mr. Sessions to oppose it.
Rev. Keen said the leader of the Roanoke SCLC chapter, Dr. Pernella Chubbs-Wilson, led the fight to eliminate that rule years ago to ensure that people who seek redress "are not punished for going to court when their rights are violated."
"I told Mr. Sessions that poor people who cannot afford attorneys should not face such intimidation."
Rev. Keen said the group also told Mr. Sessions that more effort needs to be made to ensure that police officers properly use Tasers so people are not injured or killed.
In addition, he said the group also urged Mr. Sessions to do more to address hate crimes and the infiltration of police departments by members of hate groups.
"They can inflict a lot of damage once they are on the inside," he said.
The meeting, he said, was a first step to ensure the state SCLC gains a seat at the table of policy discussions.
"Virginia sits on the border with the nation's capital, but we are too often left out. Our goal is to be included."