Wrestling with the past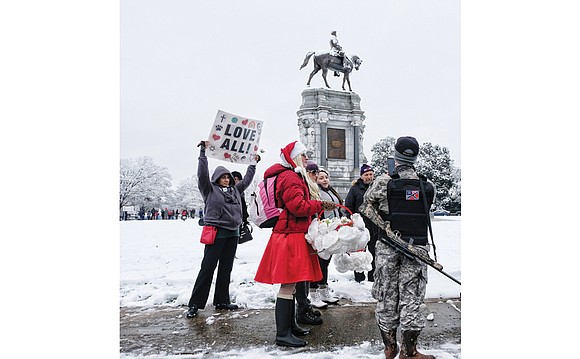 "The only way people learn about an image is by thinking about it," he said. "Both flags stand for the misguided value systems of hate, racism, white supremacy, bigotry, slavery, intimidation, intolerance and death."
In addition to concerns about rally costs, some counterprotesters took the opportunity to advocate for removing the statues from Monument Avenue.
"In 2006, the state government spent $450,000 to try to clean this statue," Richmond activist Phil Wilayto said of the Lee monument. "This statue will never be clean. It has the blood of hundreds of thousands of soldiers who died defending the system of chattel slavery."
Mr. Wilayto faulted state leadership for the violence and death at the August "Unite the Right" rally of neo-Nazis and white nationalists in Charlottesville and said the Confederate statues attract undesirable characters and must come down.
Saturday's event ended without any arrests.
Following the rally, the CSA II posted a picture of the frosty scene on its Instagram account with a caption that referenced counterprotesters leaving and celebrating the neo-Confederates for "holding the line" to protect heritage.
CIty Council rejects resolution seeking authority to determine statues' future
By Jeremy M. Lazarus
Was it a victory for white supremacy?
Richmond City Councilman Michael J. Jones answered that question with an emphatic, "Yes," Tuesday, about 12 hours after the 9th District representative watched his colleagues torpedo his resolution dealing with the statues of the slavery-defending Confederates that dominate Monument Avenue.
By a 6-2 vote following more than 90 minutes of debate Monday night, City Council killed his proposal to ask the General Assembly to give Richmond the authority to decide the future of the statues that stand as reminders of Richmond's role as the capital of the Confederacy during the Civil War.
Despite the vote, the legislature is expected to take up the issue of local control of such statues at the request of Charlottesville and other communities that want them removed from public spaces.
Charlottesville City Council voted earlier this year to remove its own Confederate statuary from publicly owned parks.

Mr. Jones is not giving up and pledged Wednesday to introduce a similar resolution after a commission Mayor Levar M. Stoney set up to review the future of the statues finishes its work in May and presents its recommendations.
While Mr. Jones on Monday rejected the idea that "a vote against the resolution was a vote for white supremacy," he changed that position a day later.
"Council's inaction on our right to govern ourselves is indeed a victory for white supremacy and reflective of Richmond's systematic and historical inequities," he said.
In his view, the "council failed our citizens. We must focus on our right to legislate in this city, not simply tell the mayor or the administration what to do."
Ahead of the vote Monday night, he urged the council to be courageous and vote for the resolution.
"There comes a time when leaders must step out front of the polis (constituents), and this is one of those times," he said. "This is not about erasing history. I wish we could erase all of the vile effects of the Civil War. I wish would could erase the stain of racism in this country. But it can't be erased. So in discussing the (statues), it's not tearing down history, it's not changing it."