Fired or resigned?
Omarosa out at White House
12/29/2017, 12:20 p.m.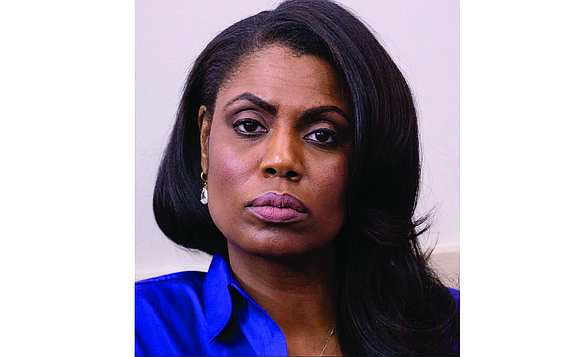 "The flood gates were opened, but Omarosa held all of us to a different standard. She had say over a lot of the black (people's) résumés."
Mr. Craig said during a January conference call with the Republican National Committee and Trump transition team held specifically for African-American activists and party loyalists, Ms. Manigault Newman "made us these promises that this would be the most diverse administration in history."
She said she would help "wherever we wanted to go into government and to shoot our résumés over to her," Mr. Craig recalled. "She said this administration had a goal of having 25 percent minority hiring. They wanted 25 percent of the workforce to be black and Hispanic ... So she positioned herself as the end all, be all for black things, for black people in the administration."
But her promises didn't materialize.
Ayshia Connors, former deputy director of African-American engagement at the RNC, agrees. She talked about an initiative by two organizations, the Joint Center for Political and Economic Students and Insight America that is headed by former GOP Congressman J.C. Watts of Oklahoma.
Hundreds, "probably thousands," of résumés of qualified African-Americans "were ready and prepared to go into any administration, no matter who won the election," said Ms. Connors, who is now a senior adviser to GOP Rep. Brian Fitzpatrick of Pennsylvania.
"When President Trump got elected, all of those names were submitted and Omarosa literally trashed those names. Nobody got a call back. Nobody got an interview. Nobody was ever heard about again.
"People tried to go in," she continued. "People were eager and willing to serve the president, willing to serve our country. But Omarosa didn't want other black Republicans there. She wanted to be the big shot. She wanted to be the only one."
Ms. Connors added that Kay Coles James, a former Virginia secretary of health and human resources under GOP Gov. George Allen and director of the federal Office of Personnel Management under former GOP President George W. Bush, received the same treatment.
Mrs. James also had served on the Trump transition team.
"She was willing and prepared to go back into government and to help the administration. But Omarosa was such a distraction and created so much drama and confusion that Mrs. James just decided not to engage anymore. That's why you only saw Omarosa as a senior black Republican in the White House."
In a brief interview with Mrs. James upon her appointment as president of the Heritage Foundation, Mrs. James was clear about why she did not work in the Trump White House.
"When Donald Trump said that he wanted to improve the urban areas and that he wanted to make the lives of minorities in this country better, I said, 'Wow, if he wants to do that, I genuinely want to be a part of that.' I was excited and hopeful about the opportunity," she said.
"But that opportunity never really afforded itself. I am told that I was blocked ... I don't have specifics about how that happened, but I was extremely disappointed that I didn't have the opportunity to serve."