Personality: Pam Mines
Spotlight on founder of nonprofit JP JumPers Foundation
12/29/2017, 12:44 p.m.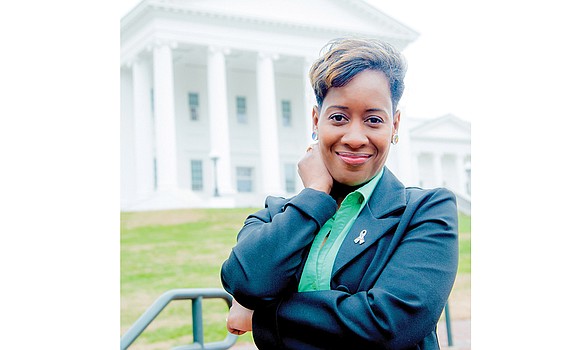 "It is not a punishment, an accident or a curse," she said. "If parents with autistic children can feel a little bit better knowing that they have been chosen, then we have helped one person with that message. That's our goal."
Meet this week's Personality and special needs advocate Pam Mines:
Occupation: Capital region director at Special Olympics VA.
Duties of position: Managing Special Olympics VA programs, athletes and volunteers in the City of Richmond and Henrico, Hanover and Charles City counties.
Community involvement: Founder and president of JP JumPers Foundation.
Current residence: North Chesterfield County.
Education: Associate degree in early childhood education and certifications.
Family: Husband, Perry Mines, and children, Michelle Mines, JP Mines and Sydnee Baker.
Foremost mission of JP JumPers Foundation: To provide support for those affected by special needs through tangible assistance, public awareness, education and partnering with other organizations.
Why I am excited about this organization: I am extremely excited that, through this organization, this unseen community is in the spotlight and seen by those who are affected by special needs and those who are not.
How organization is working with law enforcement about JP's Law: We train cadets and officers regularly about JP's Law, not on how to be a police officer. We are very appreciative to law enforcement and what they do for our community. So our role is to speak to them from the "we" perspective.
Steps the organization is taking for JP's Law to become national: We are meeting with members of Congress and talking with neighboring state legislatures in an effort to make this law national. I initiated this law because I wanted to do it in honor of my son, not in memory of him. The goal is to be proactive, not reactive.
What motivated me to get involved in community service: My mom and dad always involved us in volunteering but my dad really had us out in the community doing things little girls didn't typically do, like going to the "Shelter-Thon" every year to help clean, paint and fix up shelters in the Richmond and Tri-Cities areas. We fed the homeless with him. We just always gave back and I guess it kind of stuck. Now it's a part of my everyday life. It is truly all I think about, and now my kids are giving back at a young age as well. They understand the power of giving to those in need and the community as a whole. Community involvement and the kindness of others who give back motivate me daily.
How I start the day: I literally start every day thinking what can I do for the special needs community, and I go to bed at night wondering if I did all I could for the special needs community. I want to do all that I can to positively impact this often overlooked community because none of us chose to be a part of this community. However, God chose us! Having a loved one in your life with special needs is not an accident, a punishment or a curse. It is an assignment by God and we need to take it seriously. Not only that, God chose the person with special needs because he knew they had the determination to handle it and they had you to care for them and be in their corner.