Farewell, President Obama
Commander in chief returns to Chicago for his final speech where it all began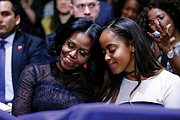 He warned about the pernicious threat to U.S. democracy posed by purposely deceptive fake "news" and a growing tendency of Americans to listen only to information that confirms what they already believe.
Get out of your "bubbles," said President Obama, who rose to political leadership with a message of unity, challenging divisions of red states and blue states. President Obama also revived a call to activism that marked his first presidential campaign, telling Americans to stay engaged in politics.
"If you're tired of arguing with strangers on the internet," President Obama said pointedly, "try to talk with one in real life."
While he came to office amid high expectations that his election would heal historic racial divides, he acknowledged in his speech that it was an impossible goal.
"After my election, there was talk of a post-racial America," he said. "Such a vision, however well-intended, was never realistic. Race remains a potent and often divisive force in our society."
He urged racial minorities to seek justice not only for themselves, but also for "the middle-aged white man who from the outside may seem like he's got advantages, but who's seen his world upended by economic, cultural and technological change."
Even as he said farewell, the anxiety felt by many about the future was palpable, not only in the Chicago convention center where he stood in front of a giant presidential seal. The political world was reeling from new revelations about an unsubstantiated report that Russia had compromising personal and financial information about President-elect Trump.
When he noted he would soon be replaced by the Republican, the crowd began to boo.
"No, no, no, no, no," President Obama said. One of the nation's great strengths, he said, "is the peaceful transfer of power from one president to the next."
Earlier, as the crowd of thousands chanted, "Four more years," he simply smiled and said, "I can't do that."
The former community organizer closed out his speech by reviving his campaign chant, "Yes we can." To that, he added for the first time, "Yes we did."
Steeped in nostalgia, President Obama's return to Chicago was less a triumphant homecoming than a bittersweet reunion bringing together loyalists and staffers, many of whom have long since left President Obama's service, moved on to new careers and started families. They came from across the country — some on Air Force One, others on their own — to be present for the last major moment of President Obama's presidency.
Sitting in the front row with his wife and older daughter, Malia, were his mother-in-law, Marian Robinson, and Vice President Joe Biden and his wife, Jill Biden.

Unexpectedly absent was President Obama's younger daughter, Sasha. The White House said Sasha stayed in Washington due to a school exam Wednesday morning.
After returning to Washington, President Obama will have less than two weeks before he accompanies President-elect Trump in the presidential limousine to the Capitol for the new president's swearing-in.
After nearly a decade in the spotlight, President Obama will become a private citizen, an elder statesman at 55. He plans to take some time off, write a book — and immerse himself in a Democratic redistricting campaign.