Mike London headed to Howard
Fred Jeter | 1/13/2017, 6:18 p.m.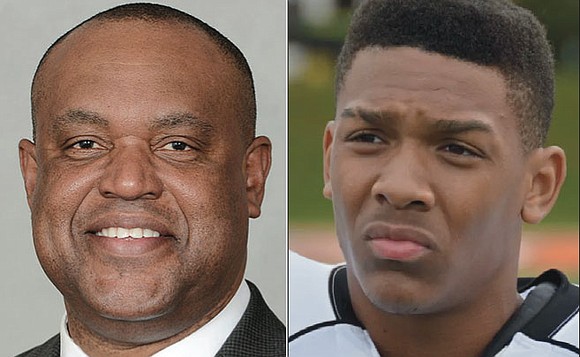 Howard University is a perennial football underdog perhaps known more for its dynamic "Showtime" Marching Band than for its gridiron success.
Michael London, HU's new football coach at age 56, hopes to change that image by sandwiching some improved football around the glitzy halftime performances.
London, the former University of Richmond (2008-2009) and University of Virginia (2010-2015) head coach, has been named to succeed Gary Harrell at the MEAC school in Washington. A formal announcement is expected this week.
Coach London doesn't have a hard act to follow in the nation's capital. Coach Harrell's Bison were 18-27 four previous seasons, including 2-9 this past autumn.
Howard's trophy case isn't exactly bursting at the seams.
Having started football in 1893, the Bison has won just two CIAA titles — 1912 and 1914 — and just one MEAC crown in 1993. Howard moved from the CIAA to MEAC in 1970.
By comparison, the "Showtime" Marching Band has been invited to play at six NFL stadiums, including in their hometown, Washington.
Other notable invites for the band have been for the Macy's Thanksgiving Day Parade in New York City and the 56th Inaugural Parade for President Obama.
Coach London, a former UR defensive back, has felt the thrill of victory as well as the agony of defeat on the coaching sidelines.
At UR, he directed the Spiders to a 2008 NCAA Football Championship Subdivision (FCS) title and an overall 24-5 record.
It didn't go nearly as well at U.Va., where he was 27-46 in six seasons, including 0-6 against archrival Virginia Tech. He resigned following the 2015 campaign.
Coach London's combined record coaching at the two schools is 51-51.
This past season, he served as an assistant coach for a University of Maryland squad that went 6-7.
Pigskin optimism is brewing in D.C., despite a lackluster history.
A likely quarterback candidate for Coach London will be Caylin Newton, the younger brother of former Heisman Trophy winner and current NFL star Cam Newton.
The younger Newton has committed to Howard University and plans to enroll this semester.
As a senior quarterback this past season at Henry W. Grady High School in Atlanta, Newton passed for 3,322 yards and 33 touchdowns and ran for 1,036 yards and 13 touchdowns.
Returning for the Bison is running back Anthony Philyaw, who rushed for 1,230 yards as a junior while earning All-MEAC honors.
Howard is hoping some combination of London's coaching, Newton's quarterbacking and Philyaw's running might add up to better results on football Saturdays.
No one likes seeing the fans leaving after the halftime show.