Howard takes on 'Mission Impossible' and scores big
9/8/2017, 12:13 a.m.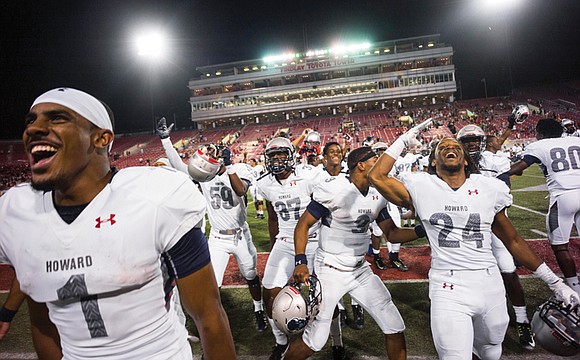 Mike London's University of Virginia football coaching tenure couldn't have ended much worse.
His coaching career at Howard University couldn't have started much better.
In his first game on sidelines for the Washington school, Coach London directed a head-spinning 43-40 upset victory last Saturday at the University of Nevada-Las Vegas.
It marked Howard's first ever victory over an FBS school — the highest division — and is regarded as among the greatest upsets in NCAA history based on the betting line.
UNLV, a member of the Mountain West Conference and alma mater of ex-NFL great Randall Cunningham, was a 45-point favorite over HU of the MEAC. According to Vegas odds maker R.J. Bell, a $100 bet on Howard to win straight up would have earned $55,000.
Bell noted very few such bets were made.
The largest previous betting line upset was 40-point underdog Stanford University's win over the University of Southern California in 2007.
In football jargon, Howard at UNLV was a "guarantee game," meaning the home team paid Howard to play with no obligation to ever play the Bison in D.C. UNLV confirmed the guarantee in this case was $600,000, on the condition that Howard's renowned marching band — "Showtime" — perform before and during the contest. That said, Howard came away with a historically significant victor, plus a hefty payday.
The leading man on the field for HU was freshman quarterback Caylin Newton, brother of NFL Carolina Panthers quarterback Cam Newton.
At 5-foot-11, Georgia native Caylin Newton is six inches shorter than Cam. But size didn't matter in Vegas, as he passed for 140 yards and ran for 190 yards in his college debut.
On defense, Isaiah Fludd, a junior from Chesterfield County's Monacan High School, contributed four tackles.
In a postgame news conference, Coach London said, "The players, the guys, I'm telling you, are sky high right now in terms of confidence, in terms of belonging. We talked about this being a business trip. This wasn't the old typical 1AA. It's your money game, and we're going to be cannon fodder.
"We came here to win, and that's what happened."
Such moments of exhilaration were rare for Coach London at U.Va., where he coached from 2010 to 2015. His Cavaliers were 27-46 overall, including 0-6 against archrival Virginia Tech.
Coach London was sent packing following the 2015 season and spent 2016 as a University of Maryland assistant.
At Howard, he inherited a wobbly program more famous for its band than football. Howard had won just three games total during the past two seasons. The Bison were picked to finish ninth out of the 11 MEAC teams this autumn.
Tongue in cheek, Coach London had dubbed his assignment against UNLV as "Mission Impossible."
With the mission somehow accomplished in Vegas, Howard officials are trying to cash in. An online fundraiser for Howard has been launched called "$43.40," representing the score against UNLV, #Mission Impossible.