Trump inaugurated amid hail of protests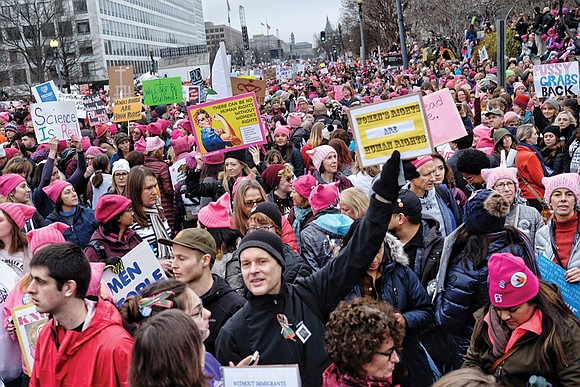 WASHINGTON
Republican Donald J. Trump launched his presidency with a blunt inaugural address, a fist pump and promises to give power to the people and put "America first."
And in the days since he was sworn in last Friday as the nation's 45th commander in chief, he been drafting and signing orders to carry out campaign promises — from gutting the Affordable Care Act that many of his supporters rely on to restarting construction of oil and gas pipelines that were halted due to concerns about environmental damage.
Despite arriving in office with the lowest approval ratings of any modern president, he and Republican allies who dominate Congress were unfazed and undeterred by the protests and demonstrations during and after the inauguration — most notably the Women's March on Saturday that drew more than a half million people in Washington and up to 5 million in similar marches in cities across the country and around the world.
Pushing ahead, President Trump on Wednesday ordered the start of construction of a U.S.-Mexican border wall with taxpayer funds and a renewed promise to get a resistant Mexico to cover the estimated $14 billion cost.
The oldest and richest president ever to serve, the 70-year-old chief executive, who has raked in millions of dollars running for office and who expects to become even richer with the money he will make as president, also ordered punishment for cities shielding undocumented immigrants; made plans to allow torture of prisoners and to reopen CIA secret detention camps; and began moving to bar entry to refugees from war-torn Middle Eastern and African nations.
He also ordered the Environmental Protection Agency to wipe out pages on its website relating to climate change, essentially eliminating government and public access to scientific reports and data.
Facing an estimated 200,000 people at his inauguration who sprawled across the National Mall, he spoke over the competing chants of approval and protest. The new president pledged in his 16-minute speech to empower America's "forgotten men and women." 
As he had during his campaign as the Republican nominee, President Trump portrayed the nation as violent and economically shattered, lamenting "American carnage," closed factories and weak U.S. leadership.
Ironically, his promise to make "buy American" the watchword of his administration was belied by the $25 red caps supporters wore emblazoned with his signature slogan, "Make America Great Again." All were made in China, Bangladesh and Vietnam — clear evidence that "Do as I say, not as I do" likely will guide his policies.
In his address, he ripped into Washington's longtime leaders as he stood among them at the U.S. Capitol. He charged that the powerbrokers had flourished while the people suffered. 
He focused on nationalism — "At the bedrock of our politics will be a total allegiance to the United States of America.
"From this day forward, a new vision will govern our land. From this day forward, it's going to be only, 'America First,' " President Trump said.
He also vowed to bring jobs back to the United States, and "eradicate completely" Islamic terrorism.
In sharp contrast to the hope and optimism of his predecessor, the new president arrived with a message fear, anger and isolation that resonated with white, working class people who appear not to care about his close ties to Communist Russia and its leader, Vladimir Putin, whom U.S. intelligence agencies have determined worked to aid his election.
More than 60 House Democrats refused to attend his swearing-in ceremony — just as Republicans legislators had avoided President Obama's ceremony — in the shadow of the Capitol dome.
One Democrat who sat among the dignitaries was Hillary Clinton, who was widely expected by both parties to be the one taking the oath of office, but lost to Mr. Trump in an upset that stunned even him and his staff.
At a post-ceremony luncheon at the Capitol, President Trump asked the Republicans and Democrats present to recognize Mrs. Clinton, and those in the room rose and applauded.