Make it count
6/9/2017, 11:05 a.m.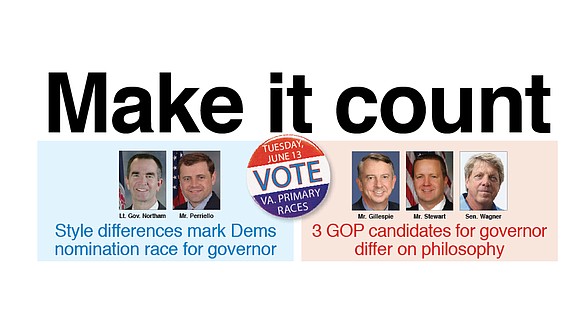 If regular Democrats turn out for next Tuesday's primary, and college students and others who backed Sen. Sanders fail to show up to the polls in big numbers, Mr. Perriello will return to the sideline, observers suggest.
If Lt. Gov. Northam wins, he may owe Mr. Perriello for helping to get him ready for the fall campaign. In the past few weeks, Lt. Gov. Northam has increasingly been seen as becoming more dynamic and more tuned in to social media.
The real test of his support and the support for Mr. Perriello will come next Tuesday, when the voters make their choice known at the ballot box.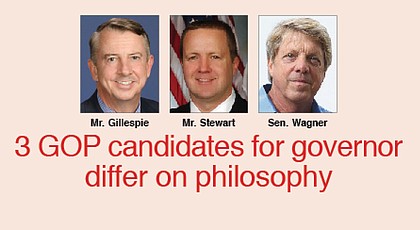 By Warren Fiske
All signs point to an easy win for Edward W. "Ed" Gillespie, a deeply connected GOP strategist, in the June 13 Republican primary for governor.
Mr. Gillespie, 55-year-old public affairs consultant and former chairman of the Republican National Committee, holds wide leads in polls and fundraising over his two adversaries for the GOP gubernatorial nomination — Corey A. Stewart, chairman of the Prince William County Board of Supervisors, and state Sen. Frank W. Wagner of Virginia Beach.
Mr. Gillespie introduced himself to Virginia voters in 2014 when he ran for the U.S. Senate and nearly upset incumbent Democrat Sen. Mark R. Warner. Mr. Gillespie has run a classic Main Street campaign this year, promising to lower taxes and shrink state government, corralling endorsements from the GOP's establishment and trying to stay above the fray of his opponents.
But Virginia primaries are quirky contests during non-presidential election years because they draw little interest and, often, only about 5 percent of registered voters cast ballots. That gives hope to Mr. Stewart and Sen. Wagner, who may need to create only ripples of support — not waves — to win.
Mr. Stewart, a 48-year-old international trade attorney, made his name in Virginia politics leading efforts in Prince William County to crack down on undocumented immigrants, whom he blamed for much of the county's violent crime. This year, he is offering himself as the defender of Confederate heritage and the champion for supporters of President Trump.
Mr. Stewart has made headlines criticizing a recent decision by the Charlottesville City Council to take down a statue of Confederate Gen. Robert E. Lee. He has vowed, if elected governor, to preserve the statue, the Confederate Flag and other public relics of the Confederacy.
"Nothing is worse than a Yankee telling a Southerner that his monuments don't matter," the Minnesota native posted on Twitter on April 24.
Calling Mr. Gillespie "Establishment Ed," Mr. Stewart has criticized the GOP frontrunner for keeping his distance from President Trump during last year's presidential election. Mr. Gillespie did not appear with the presidential candidate at rallies and only tepidly endorsed him.
Mr. Stewart was chairman of the Trump campaign in Virginia until early last October when he was fired for making unauthorized statements criticizing the Republican National Committee as "establishment pukes" for not amply supporting President Trump.
Mr. Stewart is promising to outlaw sanctuary cities and counties in Virginia — a term used to describe jurisdictions that, in one way or another, don't cooperate with federal immigration authorities.