Primed for November
Primary winners Northam, Gillespie will carry Dem and GOP banners into gov. election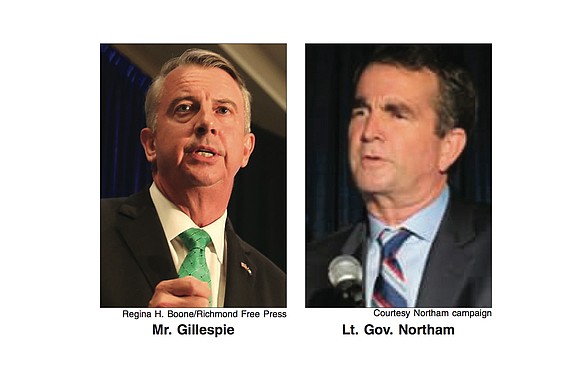 However, Mr. Stewart, an anti-immigrant advocate who defends Confederate statuary in the state, refused after his loss to endorse Mr. Gillespie and hinted at plans to run against U.S. Sen. Tim Kaine, who will be seeking re-election next year.
"There is one word you will never hear from me, and that's 'unity,' " a defiant Mr. Stewart told supporters at his post-election rally in Prince William County.
His words suggest Mr. Gillespie will have a harder time rallying his party to support the ticket he will lead.
The ticket also includes state Sen. Jill H. Vogel, who is seeking to become the first female lieutenant governor in Virginia, and GOP attorney general nominee John Adams, a Richmond corporate attorney and former associate White House counsel.

Ahead for voters is likely to be an expensive and hard-fought race for the South's only open governorship. New Jersey is the only other state electing a governor in November.
Once reliably Republican, Virginia is the only Southern state that Democrat Hillary Clinton carried in 2016. The commonwealth has now gone Democratic in three successive presidential elections.
Also, Virginia is among just three of the 14 Southern states with a Democratic chief executive, the others being West Virginia and Louisiana. Three of the commonwealth's last four governors have been Democrats.
Voters will decide Nov. 7 whether the governor's office remains a Democratic stronghold in an era in which the General Assembly has Republican majorities in the House and Senate.