Prospect of home ownership escapes 70-year-old Randolph resident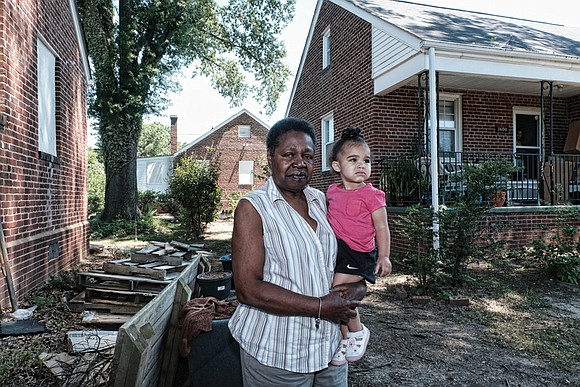 By Jeremy M. Lazarus
Charlene C. Harris hoped to buy the home in Randolph that she and her family have rented for nearly 50 years from the Richmond Redevelopment and Housing Authority.
Instead, the retired state employee is packing up and preparing to move from the two-bedroom, brick home at 1600 Colorado Ave. to an apartment complex in South Side.
"It won't be the same," said Ms. Harris, 70, who admits being anxious about the move.
"I love this house. It holds a lot of memories. Four generations of my family have lived here. My mother moved here in 1968, and her children have stayed here at various times, including me, my brother and three sisters.
"My son and my daughter have lived here, and now my great-granddaughter is staying with me. It's just not fair that I cannot live out my days here," she said.
Ms. Harris, who plans to move in two weeks, is among the last of seven families living in RRHA's scattered site homes. All will be out soon, RRHA said.

The tenants are among several generations of Richmonders who were part of RRHA's efforts to place public housing residents throughout city neighborhoods rather than pack them into apartment complexes like Gilpin and Hillside courts.
The Colorado Avenue house is one of about 60 that RRHA rescued in the 1960s during the development of the Downtown Expressway and moved to other sites, mostly in Randolph.
Since 2007, RRHA has been trying to get rid of the 119 scattered homes in its inventory, with permission from the actual owner, the U.S. Department of Housing and Urban Development. More than half were boarded up at the time and left to molder.
However, only 11 tenants ended up buying the homes.
In 2015, new RRHA CEO T.K. Somanath decided to get rid of the properties that RRHA could not afford to maintain with its shrinking allowance of maintenance money from HUD.
With HUD approval, he reopened efforts to sell the homes to the remaining tenants and asked local nonprofits to bid for 64 of the vacant houses.
Only two nonprofits, project:HOMES and Richmond Metropolitan Habitat for Humanity stepped up. Collectively, they agreed to take 38 of the houses for $1 apiece, with a requirement that the buildings be improved and resold with 18 to 24 months.
On Thursday, June 29, the remaining 26 houses were to be auctioned one by one to the highest bidder at an auction at the Greater Richmond Convention Center.
Meanwhile, Ms. Harris and other tenants who occupied a few of the remaining homes in RRHA's inventory were offered generous terms to purchase. They also were referred to Housing Opportunities Made Equal's Center for Housing Counseling and Education for assistance in applying for a mortgage.

However, RRHA apparently never offered tenants of its public housing complexes who are paying more than $500 a month in rent an opportunity to buy any of the houses. The offer appears to have gone only to those like Ms. Harris still occupying a scattered site house.