State of city schools
Superintendent Bedden says progress won't happen overnight
3/20/2017, 8:31 a.m.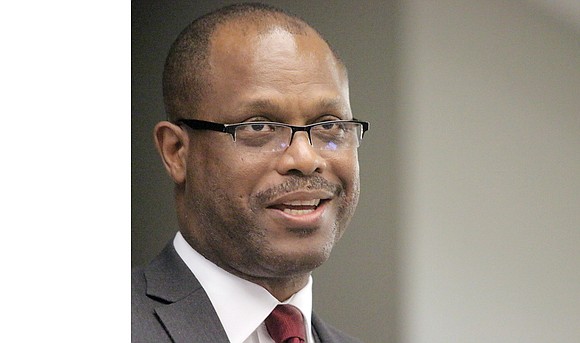 By Holly Rodriguez
When Richmond schools Superintendent Dana T. Bedden took the podium Tuesday night to offer his annual "State of the Schools" address, he was clear from the beginning that the picture would not be all roses.
"This conversation is about progress, and like the mayor said, it is going to take time," he began, referring to previous remarks from Richmond Mayor Levar M. Stoney. "It's not going to happen overnight."
The evening was a show-and-tell of sorts for Richmond Public Schools, with students from several elementary, middle and high schools performing leading up to and upon the conclusion of Dr. Bedden's address. It also was a truth-telling about the "transition" phase facing the school system, a process that Dr. Bedden described as messy, unpredictable and emotional for all involved.
The good news he offered to the audience of several hundred parents, teachers, administrators and Richmond School Board members is that 17 of 44 schools in the district are now accredited, a significant increase from when Dr. Bedden started in January 2014.
More students are taking the SATs and continuing their education beyond high school at two- and four-year colleges, he said.
On the downside, Dr. Bedden told the audience there has been a slight dip in the number of students who are graduating on time, 78 percent of the RPS student population qualifies for free and reduced lunch, 40 percent live below the poverty line and many students need trauma-informed care because of the abuse, neglect and household dysfunction that is a part of many students' childhood.
These challenges facing RPS are further compounded by a wide budget gap between the more than $21 million funding increase the School Board recently requested for the 2017-18 fiscal year and the $6.1 million increase for schools included in Mayor Stoney's budget proposal to City Council.
The only way forward, Dr. Bedden said, is the continued support of the 125 community partners, 842 volunteers, dedicated teachers and involved parents working together to create a pathway to success.
"It takes a community of support," he said. "It will take time to get there, but we will get there."
Beginning with the John Marshall High School drum line, student performances included a step performance from students of Elkhardt-Thompson Middle School belting out messaging based on the RPS theme "Resilience, Pride and Success," an interpretive dance routine from Binford Middle School dancers to the song "Rise Up" by Andra Day, and drumming by kindergartners from the Martin Luther King Jr. Preschool Learning Center.
Students were not the only ones showing off RPS progress. The superintendent called on several school principals to share innovative approaches used in their schools and the successful impact they have had on students.
Indira Williams, principal of Ginter Park Elementary School, said some of the ideas are quite simple and spontaneous.
"An example of positive behavior reinforcement at our school has included rolling out the lunch tables the other day when the weather was nice so the students could sit outside and enjoy the weather," she said.
Binford Middle School principal Melissa Rickey said the school is having great success with a curriculum that teaches the Common Core subjects through art.
"We have great scientists and mathematicians and others who are learning through art," she said. "Clearly, great things are happening all over the district, and we are looking forward to even greater things."