Baseball opens door to first African player
Fred Jeter | 5/26/2017, 6:07 p.m.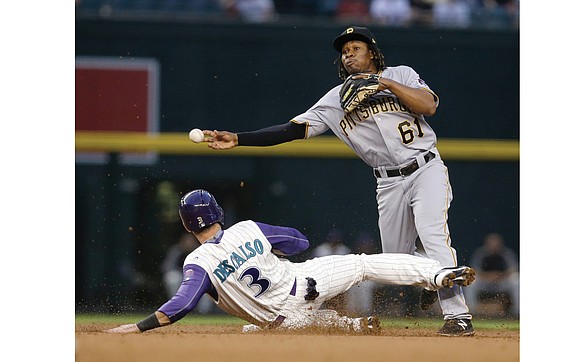 Gift Ngoepe has opened Major League Baseball's door to Africans.
On April 26, Ngoepe, who is from South Africa, became the first player from the African continent to play in the big leagues.
The 27-year-old, right-handed second baseman debuted with the home-standing Pittsburgh Pirates at PNC Park against the Chicago Cubs.
Dramatically rising to the occasion, Ngoepe singled in his first plate appearance, helping the Pirates to a 6-5 victory.
Teammate "Francisco Cervelli hugged me and I could feel my heart beating through my chest," Ngoepe told OkayAfrica.com's international edition. "It was emotional and I had to fight back the tears."
The 5-foot-8, 200-pound Ngoepe was called up to Pittsburgh from the Indianapolis Indians, the Pirates' AAA farm club in Indianapolis, where he played parts of the past three seasons.
Baseball is not a popular sport in Africa; soccer is far and away the dominant athletic activity. South Africa hosted international soccer's World Cup in 2010.
Ngoepe was attracted to baseball because his mother, Maureen, was a clubhouse attendant for the Randburg Mets baseball club near Johannesburg.
Maureen Ngoepe and her sons lived in a room adjacent to the clubhouse.
Ngoepe quickly showed talent with his glove, bat and speed and was named to South Africa's National Team. That earned him a tryout in 2008 in Tirrenia, Italy, where he was signed by the Pittsburgh Pirates in October 2008. Prior to Ngoepe signing, a few other South Africans, all of whom were white, had signed professional contracts with American teams, but none reached the majors.
Ngoepe's younger brother, Victor, also has since signed with Pittsburgh and plays for the Pirates' Gulf Coast League affiliate in Florida.
While Ngoepe's first appearance in the majors was April 26, it was April 27 back home in South Africa, a day that is celebrated there as Freedom Day. On April 27, 1994, black South Africans were first allowed to vote in national elections.
Ngoepe is not a lock to stick with the Pirates. He was called up, in part, because of an injury to infielder David Freese, and also because of visa problems involving infielder Jung Ho Kang of South Korea.