Frank Mason III hopes to become next small man in NBA
Fred Jeter | 5/26/2017, 6:01 p.m.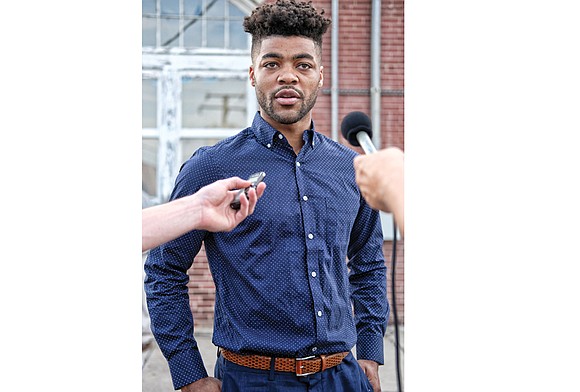 The NBA is something of a real-life Brobdingnag, that fictional land of giants in the novel "Gulliver's Travels."
How else to describe a population with more men taller than 6-foot-9 than under 6 feet?
Frank Mason III of Petersburg hopes to be the next basketball player to prove that to make it in the NBA, you don't have to be a giant as long as you can play like one.
The NBA draft will be conducted June 22, with just two rounds and representing 60 players. The general consensus is that Mason will go as early as the late first round but more than likely in the second round.
At the recent NBA Combine in Chicago, Mason sparkled in every category but height. He is 5-foot-11 without shoes.
Showing he is a "tall 5-foot-11," Mason's wing span was measured at 6-foot-3.5 and his vertical leap was an astounding 41 inches — the third best at the NBA Combine.
His body fat was tested at a hummingbird-like 4.3 percent.
In a pair of 5-on-5 scrimmages against other NBA hopefuls, Mason scored 21 points with two assists in one scrimmage, and eight points and four assists — with no turnovers — in another.
Mason needs to look no further than diminutive Boston Celtics' point guard Isaiah Thomas for inspiration.
The 5-foot-9 Thomas averaged 25.4 points and 6.5 assists for 13 games in leading Boston to playoff series wins over the Chicago Bulls and the Washington Wizards. That included a 53-point explosion in an overtime Game 2 victory over the Wizards.
At the Combine, Mason likened his size and attitude to those of Thomas, calling it "heart over height."
Like Mason, Thomas was a brilliant college performer before entering the NBA. Thomas scored more than 1,700 points in three seasons at the University of Washington before becoming a second round draft pick of the NBA Sacramento Kings in 2011.
Thomas earned second team, All-NBA honors this season even though he is likely no taller than your neighborhood bank teller.
Here's a review of some of the NBA's most notable short subjects:
Muggsy Bogues (5-foot-3 of Baltimore): Shortest NBA player ever;  All-ACC performer at Wake Forest University; Washington Bullets' first round draft pick in 1987; averaged eight points and eight assists between 1987 and 2001 and famously blocked  a shot of 7-foot Patrick Ewing in 1993.
Earl Boykins (5-foot-5 of Cleveland): Was so small as a child, his father would sneak him into games in his gym bag to keep from paying; was second in NCAA in scoring during his senior year at Eastern Michigan University; in 652 NBA games, averaged 8.9 points, 3.2 assists.
Spud Webb (5-foot-7 of Dallas): With theme "last in height, first in flight," he won the NBA 1986 Slam Dunk Contest; played under Jim Valvano at North Carolina State University; in the NBA, he averaged 10 points, 5.3 assists from 1985 through 1998; reportedly dunked at 5-foot-3 at Dallas' Wilmer-Hutchins High School. 
Greg Grant (5-foot-7 of Trenton, N.J.): Authored book "94 Feet and Rising," referencing the length of the court; led NCAA Division III in scoring at Trenton State College and was the Phoenix Suns' second round draft pick; averaged three points and three assists in 274 NBA games from 1989 through 1996.
Nate Robinson (5-foot-9 of Seattle): Originally enrolled at the University of Washington on a football scholarship, but switched to basketball; averaged 11 points in 618 NBA games, with a high of 17.2 points with the New York Knicks in 2009; incredibly, was three-time, All-Star Slam-Dunk champ.
Calvin Murphy (5-foot-9 of Norwalk, Conn.)  Shortest member of the Naismith Basketball Hall of Fame; also a College Basketball Hall of Fame inductee from Niagara University; averaged 18 points 1970 through 1983 with the Houston Rockets; among NBA's best foul shooters (89 percent); the accomplished baton twirler often entertained at college games.
Not to be forgotten …
Jonte Hall (5-foot-2 of Baltimore): Known as "Too Tall Hall," he never played in the NBA, but in 2012, he became the shortest ever Harlem Globetrotter; specialized in fancy dribbling and the Globetrotters' innovative "4-point shot" from a 35-foot distance.