VSU Trojans' dream season ends with loss in playoffs
11/24/2017, 2:32 p.m.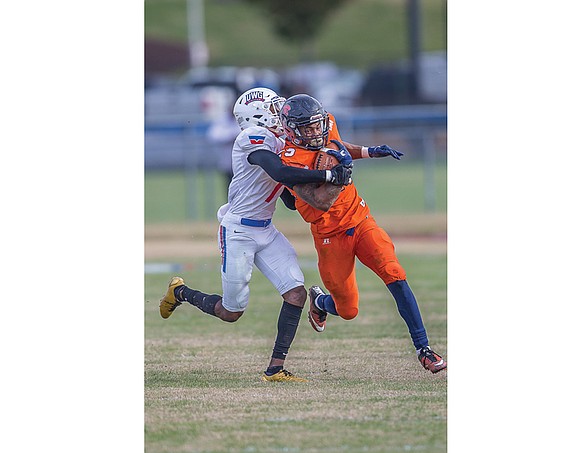 Virginia State University's magic carpet ride of a football season has coasted to a close.
So let the warm memories begin.
Decades from now, when the current Trojans are bouncing grandchildren on their knees, they may not remember the exact score of their 35-9 loss last Saturday in the NCAA Division II regional playoff game against the University of West Georgia.
But how could they ever forget the season that included:
• Posting a 9-0 regular season record, with 14 straight victories over two seasons.
• Notching spirited wins over rivals Norfolk State and Virginia Union universities, and defeating defending CIAA Division champs Bowie State and Winston-Salem State universities.
• Winning the CIAA Northern Division, then topping that by trouncing Fayetteville State University to claim the 2017 CIAA crown.
• And claiming only the second NCAA football bid in school history.
Many years from now, perhaps with flecks of gray in their hair, the Trojans may not recall that West Georgia got the best of them in yardage (418 yards to 277) and first downs (22 to 17).
But why dwell on negatives when there will be so many superlatives to recall at a future team or class reunion? Like …
• Coach Reggie Barlow, VSU's fourth football coach in six years, earning CIAA Coach of the Year honors.
• Trenton "Boom" Cannon being named CIAA Offensive Player of the Year.
• Frank Ball clearing wide paths on the offensive line.
• Brandon Lynch, the ultimate warrior, making so many tackles the statistician ran out of sharp pencils to keep track of them.
• Zachary Parker, in his lone season as a Trojan, snagging 34 passes for nearly a 20-yard average.
• Quarterback Cordelral Cook emerging among the top option quarterbacks in all of Division II football.
In years to come, these Trojans, when reaching for their bifocals, may forget their offense went silent (just three field goals) in the NCAA regional playoff game.
What they are more apt to recall is how the explosive Cannon established school single-season and career records for most rushing yardage — 1,638 yards and 4,030 yards, respectively.
Or that he tallied a whopping 44 touchdowns afoot in his three seasons since transferring from Shepherd University in West Virginia.
Or, perhaps most of all, how Cannon turned into Superman and leaped over a Virginia Union University defender at the goal line on the final play of the first half in the game against the Panthers. On the way to the locker room, teammates were pinching him just to see if he was human. You don't forget that.
But Cannon would be the first to say he couldn't have done it without the play calling from the sidelines, or Cook sharing the rushing load, or the blocking in front of him or the defense that kept giving the Trojans the ball.
It all added up to arguably the best overall team performance VSU has ever enjoyed dating to the late '90s — the 1890s, that is.
Sadly, seasons end. Memories never do.