Personality: Tonya L. Childs
Spotlight on coordinator of Catena L. Parker Foundation annual walk
10/6/2017, 7:48 a.m.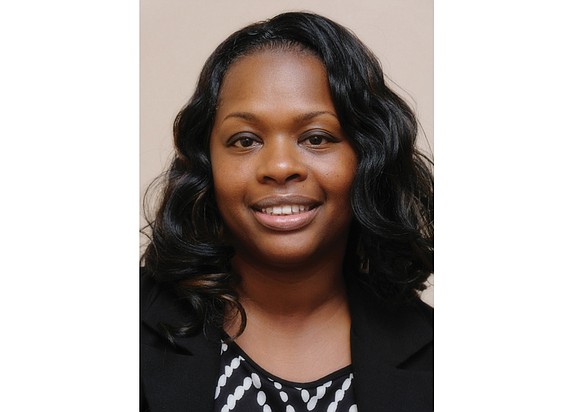 Tonya L. Childs is a soft-spoken woman with a big heart.
She understands the emotional roller coaster families go through when a child is missing. She now dedicates her time and talents as a volunteer to help the Catena L. Parker Foundation, a support group for families of missing children.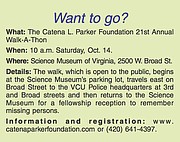 Ms. Childs is coordinator of the foundation's 21st Annual Walk-A-Thon on Saturday, Oct. 14. The event is designed to raise awareness of the growing number of missing children and to let the public know that a local organization stands ready to help families during a time that can take its toll emotionally and financially.
Since Jan. 1, more than 238 children have gone missing in Virginia, according to the National Center for Missing and Exploited Children.
"Having outside resources is comforting," Ms. Childs says.
When her 3-year-old nephew, Tyreek Davis, went missing in 2004, D. McCoy Parker, who started the Catena L. Parker Foundation, reached out to Ms. Childs.
"It was different," Ms. Childs said. "He told me that he understood and he did because of what happened to his daughter. That's why he started the foundation."
Catena Parker was a 17-year-old honor student at Richmond Community High School. She was taking college courses at Virginia Commonwealth University when she was abducted on her way home on Sept. 18, 1990. Her remains were found behind the Science Museum of Virginia on Jan. 6, 1991. To date, her abductor has not been caught.
The foundation was started by the Parker family shortly afterward, on Jan. 23, 1991.
Ms. Childs is still grateful for the assistance she received following the disappearance of her nephew. "It was nice to be able to talk to someone who has gone through the range of emotions people have when a child is missing — the anger, the sadness," Ms. Childs says. "Mr. Parker and the rest of the members (of the foundation) understood the emotional stress I was going through."
Two years later, it was discovered that her nephew had been murdered by her sister's boyfriend, she says. The foundation continued to help Ms. Childs through the grieving process.
She attended the foundation's monthly meetings and then decided to take an active role with the foundation. "I wanted to give to others what was given to me," Ms. Childs says.
In addition to coordinating the annual walk, Ms. Childs also organizes the foundation's monthly support meetings for families held 5:30 p.m. on the second Tuesday of each month at the Science Museum of Virginia. The museum, she says, donates the meeting space.
The foundation helps raise public awareness of child safety. It offers child identification cards to families to record vital information about their child, along with a photo, that can be readily available in case of an emergency. The foundation also provides assistance searching for a missing child and helping families with financial and emotional needs.
"For families of missing children, it's important that they are aware there is a place they can go for support," Ms. Childs says.