'Un Bowl' game is on with VSU vs. Bowie
10/13/2017, 12:30 a.m.
Bowie State features the CIAA's premier passer, Amir Hall. Virginia State showcases the conference's most dynamic runner, Trenton Cannon.
Whichever star shines brightest Oct. 14 will likely place his team into a commanding position in the Northern Division.
The game is being billed the "Un Bowl," pitting undefeated against undefeated. 
In a football version of two meteors colliding, Bowie (6-0 overall, 3-0 in CIAA) will clash with VSU (5-0, 3-0) on homecoming weekend in Ettrick.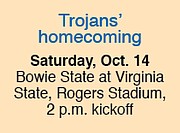 Both squads are smoking hot.
Bowie tuned up for VSU by routing Chowan, 41-10; Hall passed for 346 yards and three touchdowns.
VSU took no prisoners at Elizabeth City, blasting the Vikings 56-0, as Cannon rolled for 101 yards.
On the season, Hall is again CIAA's unchallenged passing leader with 1,983 aerial yards, 24 touchdowns and only two interceptions.
Cannon, the swift, elusive senior from Hampton, rules on the ground.
Known as "Boom," he has exploded for 629 yards, six touchdowns and an impressive 6.5 yards per carry.
He'd have added yardage if VSU games had been closer and he'd been called on more in fourth quarters.
In just three seasons since transferring from Shepherd, Cannon is on pace to possibly pass George Leonard as VSU's all-time ground gainer. Cannon is also a weapon as a pass receiver and kick returner.
VSU is looking for payback.
On Oct. 15, 2016, VSU led at Bowie, 37-20, with 8:46 left in the third quarter. From there, Hall took over, leading the Bulldogs to an improbable 38-37 comeback victory that still stings in Ettrick.
Bowie went on to win the North before falling to Winston-Salem, 43-33, in the CIAA finals.
VSU has not lost since wasting that lead in Maryland almost exactly one year ago. The Trojans finished 2016 with four straight wins and now have captured 10 in a row over two seasons under coach Reggie Barlow.
All but this year's opening win (14-10) at Norfolk State have been one-sided affairs wrapped in bright orange and blue ribbons.
In its five triumphs this season, VSU has outscored the opposition, 203-61, while out-gaining its foes, 2,262 yards to 1,280.
Bowie has been just as dominant with a 326-to-88 cumulative score through six outings.
Saturday's winner is not home free, however. Both can feel the warm breath of surging Virginia Union on their necks.
VUU, also 3-0 in the conference, travels to Bowie on Oct. 21 and to VSU on Nov. 4.
Should VSU qualify for the Nov. 11 CIAA championship game in Salem, its stamina will be greatly tested.
After playing VUU, the Trojans will host Shaw Nov. 9 (Thursday) in a game that wasn't scheduled until August.
That would result in an unprecedented three games in eight days. And if that's not draining enough, NCAA playoffs commence Nov. 18.