Reunited and it feels so good
Former President Obama energizes Va. Dems at rally
10/27/2017, 5:47 a.m.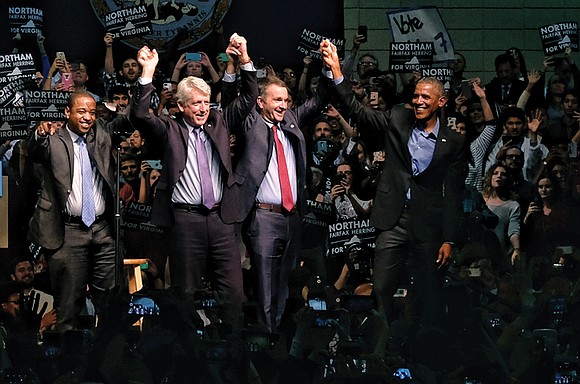 The campaign event came just three days after state Republicans held fundraisers for GOP gubernatorial candidate Ed Gillespie on Oct. 16 in Richmond and Alexandria featuring former President George W. Bush. Mr. Gillespie was tapped by President Bush to lead the Republican National Committee between 2003 and 2005 and to serve as his White House counsel from July 2007 until he left office in January 2009.
While President Obama declined to mention President Trump, or to weigh in on specific national matters, he attempted to tie Mr. Gillespie to the dissatisfactory state of U.S. politics and contrast him with Lt. Gov. Northam.
"Folks don't feel good right now about what they see," President Obama said. "They don't feel as if our public life reflects our best."
Toward the end of his speech, he referenced a controversial campaign ad run by Mr. Gillespie that accuses Lt. Gov. Northam of being soft on illegal immigration and gang violence.
"Ralph Northam believes we should have an orderly immigration system, that we should crack down on criminals and gangs and put them behind bars," President Obama said after referencing the ad. "But he also believes that we can accomplish those things without fanning anti-immigrant sentiment."