Dwight Howard, Washington Wizards looking for a championship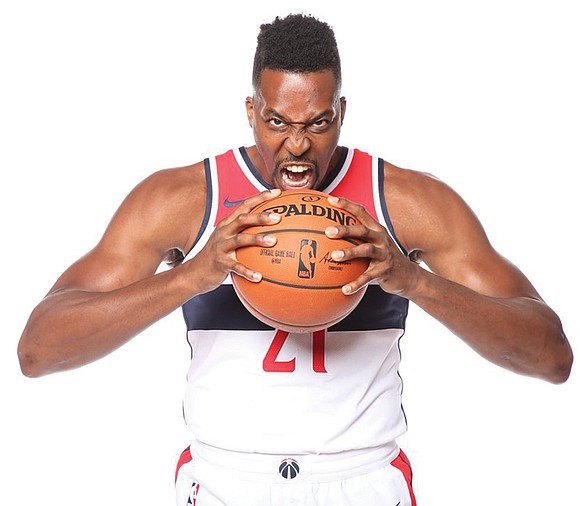 The Washington Wizards as a team, and Dwight Howard as a player, are long overdue for an NBA championship.
By combining forces, Howard and the Wizards hope to end the drought.
The sculpted 6-foot-11, 265-pound Howard, who is among the most dominant big men in NBA history based on individual statistics, has inked a one-year contract with the Wizards for $5.4 million.
It will be Howard's fourth team in four years after spending his first eight pro seasons with the Orlando Magic.
Washington hasn't won an NBA crown since 1978 and hasn't been to the finals since 1979.
Based on his introductory news conference last week at Capital One Center, Howard, 32, plans on calling the nation's capital home for years to come.
"This is where I want to retire," he said.         
Considering his journeyman status of late, Howard had a scripted answer to questions regarding his staying power.
"I thought it would be fitting" to live in D.C., he said with a playful note in his voice. "I started with Orlando and learned Magic for eight years. I traveled to LaLa Land, learned how to work Rockets. Went to fly with the Hawks. Got stung by the Hornets. 
"Throughout all that, it taught me how to be a Wizard."
In jest, he was referencing his previous stints with the Magic, the Los Angles Lakers, the Houston Rockets, the Atlanta Hawks and the Charlotte Hornets.
It's not like Howard's tires are bald. He showed plenty of tread this past season, averaging 16.6 points, 12.4 rebounds and two blocks per game.
"I think I've got another eight good years," he said. "I'm willing to adjust my game to whatever style the team needs."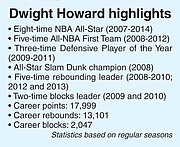 NBA greatness was predicted for Howard when he was just a teenager growing up in Atlanta. Coming straight out of Southwest Atlanta Christian Academy, Howard was the No. 1 overall draft pick by Orlando in 2004. He averaged 12 points and 10 rebounds in his first year at age 19, becoming the youngest player in NBA history to notch a seasonal double-double.
He has enjoyed a brilliant career if you eliminate the championships list on his résumé. The best a Howard-led team has done is a runner-up finish to the Lakers in 2009.
Howard was traded by the Charlotte Hornets to the Brooklyn Nets earlier this summer. He became a free agent after being waived by the Nets.
Reportedly, Howard considered signing with the Golden State Warriors before the Warriors picked up DeMarcus Cousins on July 6. That opened the door for the Washington Wizards.  
Washington is not that far from being a legitimate contender, especially in the relatively soft NBA East. The Wizards were 43-39 a year ago, then lost to the Toronto Raptors 4-2 in the first round of the NBA playoffs.
Howard replaces Marcin Gortat, "the Polish Hammer," as Washington's big man in the middle. Gortat was traded to the Los Angeles Clippers prior to the Wizards' signing of Howard.
There is talent aplenty in Washington. Guards John Wall and Bradley Beal rank with the NBA's finest. And Otto Porter is among the league's rising stars at power forward.
Gortat was solid, averaging 8.4 points and 7.6 boards last season. He was about as middle-of-the-road as NBA centers go, while Howard, with shoulders like boulders, is often in conversation for being at the top of the list.
Washington's last star quality fixture at center was Wes Unseld, who led the team — then called the Washington Bullets — to the NBA title in 1978 and to the finals in 1979. Unseld played his entire 12-season career for the same franchise.
Two other Naismith Hall of Famers manned the middle for Washington, but only for limited engagements. Walt Bellamy played the first four seasons of a 12-season career for Baltimore. The franchise moved from Baltimore to Washington in 1973. Moses Malone was in Washington for two seasons of a 21-year career.
Now it's Howard's turn to try and deliver championship flavor inside the beltway. Showing off his lighter side, he won the press conference. Next comes the more difficult chore: Winning something he has never won before.