Monument rally peaceful as neo-Confederates met by counterprotesters
George Copeland Jr. | 8/23/2018, 6 a.m.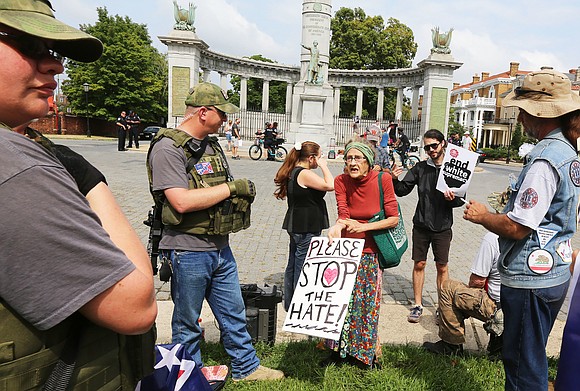 "None of my group are white supremacists. We have plenty of black friends. We hate neo-Nazis. We hate KKK. We don't stand with them. We don't tolerate them. They're not welcome."
The Davis statue, he contended, "was put here for a memorial for the Confederates and for the South. Period."
Counterprotester Jay Tubb of Richmond said he was a witness to the deadly rally in Charlottesville by white supremacist and neo-Nazi groups in August 2017 in which a white supremacist drove his car into a crowd of counterprotesters, killing 32-year-old Heather Heyer and injuring dozens of other people. He assessed neo-Confederate groups as "really misguided and ignorant."
"I believe that this uprising of the CSA is thinly disguised racism and treason," Mr. Tubb said, noting the Confederacy's origins as an attempt to preserve slavery by seceding from the United States. "These statues are a monument to that system. 'Heritage not hate' is their spin on their intolerance."
Goad Gatsby, a resident of the neighborhood, was critical of the protesters, Richmond City Council's inaction and the Virginia General Assembly for not allowing localities greater autonomy to deal with monuments to Confederates.
"I think it's going to be a long-term, cost-effective strategy to move (the Confederate statues) sooner than later," Mr. Gatsby said.
About 3 p.m., an hour before the rally's planned end, the neo-Confederates packed up and left.
The counterprotesters were left to have the final word Sunday, with some quickly moving to occupy the median strip where the neo-Confederates had been. They cheered and posed for photos before eventually dispersing.
Already there are plans for a fifth rally on Sept. 15, led by CSA II, calling for preservation of all the Monument Avenue statues.