'I was handed a death sentence'
Advocates help NAACP stalwart Ora Lomax receive life-saving dialysis after a Henrico center moves to terminate her treatment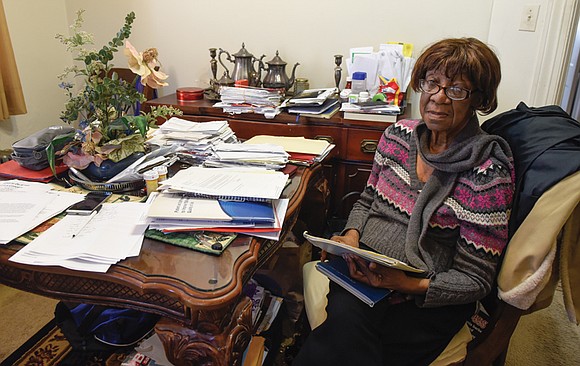 By Jeremy M. Lazarus
Getting kicked out of a dialysis clinic is the worst thing that can happen to a patient with failing kidneys.
But that is what 86-year-old Ora M. Lomax has been facing.
For 12 years, she has traveled three times a week to the West End Dialysis Center in Henrico County to be hooked up to a machine that removes from her blood the waste and excess fluid that her kidneys no longer can process.
Fresenius Kidney Care, the nation's largest dialysis provider, owns the clinic.
But on Jan. 3, Dr. Martin A. Starkman, the center's kidney specialist and her assigned specialist, gave her notice that in 30 days, she no longer was allowed at the center for treatment.
The notice also was signed by David Schwemer, the center's director of operations.
Their explanation is both controversial and, according to Mrs. Lomax, unsupported with any documentation provided to her. Mrs. Lomax accuses the two men of making up excuses to get rid of her.
Still, the letter meant Mrs. Lomax was to be barred from receiving dialysis at the center after her final session on Friday, Feb. 2.
Even worse, Carolyn Coppedge, the FKC social worker assigned to her, told her that none of the 22 other dialysis centers in the Richmond area "will accept you as a patient."
Ms. Coppedge told her that her best option for dialysis "will be to go from emergency room to emergency room" at area hospitals.
Hospitals do not perform dialysis for healthy patients; they reserve the service for acutely ill patients.
"I felt like I was handed a death sentence," said Mrs. Lomax, a feisty NAACP stalwart who for decades led the civil rights group's youth programs in Richmond and for a time at the state level.
"I want to live," she told her City Council representative, Chris A. Hilbert, 3rd District, in appealing for his help in reversing the center's decision. Without dialysis, she said she would be dead within days or weeks.
Her primary care physician, Dr. J. Stephen Christensen, called her to express dismay that she might be cut off from life-saving dialysis. She said he told her he had never heard of a physician doing what he said would be "illegal," though it appears that government regulations do not bar kidney specialists from stopping the service.
Fortunately, Mrs. Lomax received a reprieve on Wednesday.
Dr. Starkman, who still lists Mrs. Lomax as a patient in his practice, said he plans to allow her to continue dialysis at the West End center for a few more weeks. He said he will allow that leeway while he continues to try to place her at another center, according to Dr. Pamela Hamilton-Stubbs, chair of the state NAACP's Health Committee.
Dr. Hamilton-Stubbs notified Mrs. Lomax and confirmed Dr. Starkman's decision to the Free Press.
"I'm finally able to smile," Mrs. Lomax said Wednesday after hearing from Dr. Hamilton-Stubbs and the company that transports her to dialysis. "I've been under tremendous stress."