'I was handed a death sentence'
Advocates help NAACP stalwart Ora Lomax receive life-saving dialysis after a Henrico center moves to terminate her treatment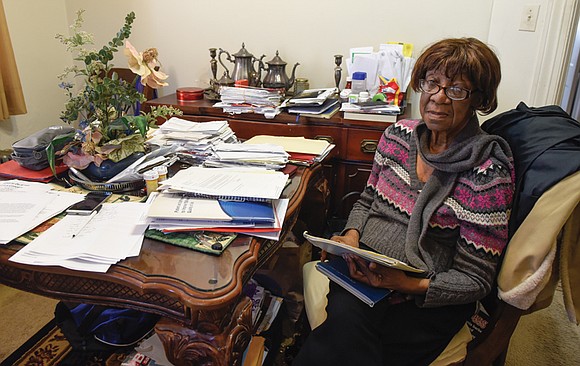 By Jeremy M. Lazarus
Getting kicked out of a dialysis clinic is the worst thing that can happen to a patient with failing kidneys.
But that is what 86-year-old Ora M. Lomax has been facing.
For 12 years, she has traveled three times a week to the West End Dialysis Center in Henrico County to be hooked up to a machine that removes from her blood the waste and excess fluid that her kidneys no longer can process.
Fresenius Kidney Care, the nation's largest dialysis provider, owns the clinic.
But on Jan. 3, Dr. Martin A. Starkman, the center's kidney specialist and her assigned specialist, gave her notice that in 30 days, she no longer was allowed at the center for treatment.
The notice also was signed by David Schwemer, the center's director of operations.
Their explanation is both controversial and, according to Mrs. Lomax, unsupported with any documentation provided to her. Mrs. Lomax accuses the two men of making up excuses to get rid of her.
Still, the letter meant Mrs. Lomax was to be barred from receiving dialysis at the center after her final session on Friday, Feb. 2.
Even worse, Carolyn Coppedge, the FKC social worker assigned to her, told her that none of the 22 other dialysis centers in the Richmond area "will accept you as a patient."
Ms. Coppedge told her that her best option for dialysis "will be to go from emergency room to emergency room" at area hospitals.
Hospitals do not perform dialysis for healthy patients; they reserve the service for acutely ill patients.
"I felt like I was handed a death sentence," said Mrs. Lomax, a feisty NAACP stalwart who for decades led the civil rights group's youth programs in Richmond and for a time at the state level.
"I want to live," she told her City Council representative, Chris A. Hilbert, 3rd District, in appealing for his help in reversing the center's decision. Without dialysis, she said she would be dead within days or weeks.
Her primary care physician, Dr. J. Stephen Christensen, called her to express dismay that she might be cut off from life-saving dialysis. She said he told her he had never heard of a physician doing what he said would be "illegal," though it appears that government regulations do not bar kidney specialists from stopping the service.
Fortunately, Mrs. Lomax received a reprieve on Wednesday.
Dr. Starkman, who still lists Mrs. Lomax as a patient in his practice, said he plans to allow her to continue dialysis at the West End center for a few more weeks. He said he will allow that leeway while he continues to try to place her at another center, according to Dr. Pamela Hamilton-Stubbs, chair of the state NAACP's Health Committee.
Dr. Hamilton-Stubbs notified Mrs. Lomax and confirmed Dr. Starkman's decision to the Free Press.
"I'm finally able to smile," Mrs. Lomax said Wednesday after hearing from Dr. Hamilton-Stubbs and the company that transports her to dialysis. "I've been under tremendous stress."
Still her case is a prime example of the life-and-death power kidney specialists like Dr. Starkman wield over their patients with little accountability.
About 450,000 people receive dialysis a year, according to Nephrology News and Issues, a trade publication. But a tiny fraction face the same problem as Mrs. Lomax.
In a recent health blog, retired nephrologist Dr. Robert Allan Bear wrote, "It is shocking that 1,000 patients annually are involuntarily discharged from their dialysis clinics. Further, they are often 'blackballed' from other local clinics.
"The consequences for such patients, predominately African-American, are dire," Dr. Bear's statement continues. "Some travel long distances, and some end up visiting hospital emergency departments, where they can receive only intermittent dialysis when in extremis. Others die. This health care practice — the involuntary removal of substantial numbers of patients each year from the treatment that sustains their lives —  is without parallel in modern medicine."
Arlene Mullin, who runs a national advocacy group she founded in Washington 20 years ago for dialysis patients, reports that she is bombarded with requests for help from patients. Mrs. Lomax is now among those she is trying to help.

In the case of Mrs. Lomax, Dr. Starkman, with the support of Mr. Schwemer, stated in the Jan. 3 letter that he was booting her from the center because "for some time now you have exhibited behavioral issues which have impacted the clinic's ability to provide adequate care for you.
"FKC has addressed each behavioral episode, developed two behavioral contracts and offers to transfer you to another clinic have been refused. Accusations, threats and harassment of staff has escalated. (sic) Resulting in numerous grievances filed with a variety of agencies. All grievances were found to be unsubstantiated."
Mrs. Lomax said that she was never offered any transfers in the past five months and never received any behavioral contracts. She also insists that the description of her behavior is false.

"When I go there, I get in the chair and that's it," she said, denying she raises a ruckus or does anything to upset the staff.
The Free Press carried a permission slip from Mrs. Lomax to the center Wednesday in an effort to see her file and find out more about Dr. Starkman's evidence, but was turned away.
Even a government-supported program in place since 1972 to help dialysis clinics improve care and to look into patient grievances said it has no authority to overrule kidney specialists' decisions to remove a patient from dialysis.
"I can't force a nephrologists to treat a patient," said Brandy Vinson, executive director of the Mid-Atlantic Renal Coalition.
Mrs. Lomax believes the decision to bar her from the center resulted from a complaint she filed against a social worker at the center for trying to halt Medicaid for paying for her transportation.
Mrs. Lomax said her toes have been amputated as a result of her diabetes, which also shut down her kidneys. She said she needs a walker for mobility and needs transportation to get to the center based on her medical condition and her income. Medicaid has paid for her transportation to the clinic for several years.
Feeling the social worker had wronged her by trying to stop her transportation, Mrs. Lomax filed a complaint with the state Department of Professional and Occupational Regulation against the social worker. The complaint is still pending, according to the agency.
Dr. Starkman and Mr. Schwemer, though, sided with the social worker and objected to Mrs. Lomax's complaints. Upset at what she considered verbal abuse, Mrs. Lomax also sought help from a TV reporter and from others who called the center on her behalf.
She is used to standing up for herself and others. In the early1960s, she led a breakthrough that allowed African-American women to be hired as retail clerks in Downtown department stores and wait on white and African-American customers.
Earlier at the dialysis clinic, she used the grievance procedure to get reassigned from a nurse who refused to put her on the dialysis machine and also to end the center's practice of failing to give her a specific time for her service.
She also persisted in her grievance against the social worker and was reassigned to Ms. Coppedge.
The Free Press was referred Tuesday to Bradford Puffer, a FKC corporate public relations spokesman, in seeking comment from Dr. Starkman and Mr. Schwemer. However, Mr. Puffer had not provided information or comment by Free Press deadline Wednesday evening.
In trying to halt her termination of dialysis, Mrs. Lomax has sought help from a wide array of people. Some have not responded, including the Richmond Department of Social Services' Adult Protective Services Unit, which is set up to prevent abuse of the elderly, and Richmond Commonwealth's Attorney Michael Herring.
However, Congressman A. Donald McEachin told the Free Press, that after his office was contacted by Mrs. Lomax, "we reached out persistently to Medicaid to try and resolve her case to ensure she could continue receiving the life-saving treatment she needs.
"We continue to work with representatives from the Centers for Medicare and Medicaid Services, who informed my team Wednesday that there would be a resolution for Mrs. Lomax's health care needs."