Injuries contribute to VSU's loss to Bowie State University
Fred Jeter | 2/2/2018, 6:50 a.m.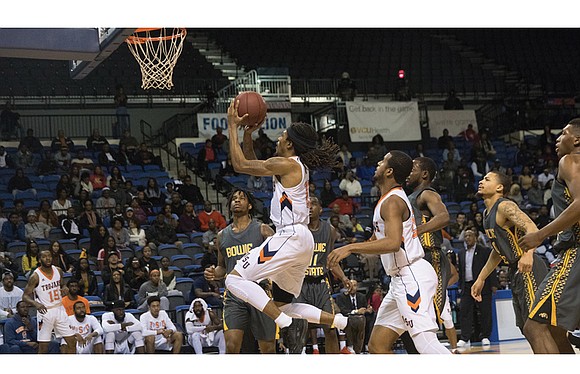 Cyonte Melvin is a bundle of basketball talent, but he's not fully healthy.
In a nutshell, that sums up the Virginia State University Trojans who took a rare stumble last Saturday in a 65-55 loss to Bowie State University at the VSU Multi-Purpose Center.
The loss dropped Coach Lonnie Blow's Trojans to 17-2 and put the brakes on a 10-game winning streak.
VSU had been ranked No. 8 in NCAA Division II in the most recent poll.
"It's just one of those nights," Coach Blow said following the loss. "We missed too many easy shots, too many turnovers. That was about it."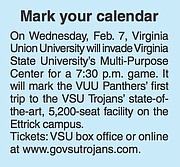 But there was more to it than errant shots and passes.
Two starters, Walter Williams and Brandon Holley, were in street clothes with foot injuries.
And Melvin, aka "CJ," was operating on what he called a "groin/hip flexor" injury.
Any shortcomings from Melvin, or the Trojans, weren't from a lack of effort.
"He's the kind of kid you like to coach," Coach Blow said of the 6-foot-3 guard. "Cyonte plays at a high level."
With dreadlocks flopping, Melvin scored 11 points, grabbed four rebounds, made three steals and passed for two assists in 32 action-packed minutes.
He is also a tenacious defender, often assigned to the opponent's most athletic guard. 
"We did an OK job, but we've got to get better, got to work harder," said Melvin, a junior from Hampton.
VSU, with road games on Wednesday, Jan. 31, at Shaw University and on Saturday, Feb. 3, at Lincoln University, is now 7-2 in the CIAA, followed by Virginia Union University at 6-3 and Bowie State at 5-5. 
Melvin, who was the Penn-South Conference Player of the Year at Hampton High School in 2014, transferred to VSU after spending one red-shirt season at Radford University.
The game against Bowie State was a grind from start to finish. The Bulldogs came to Ettrick unimpressed with VSU's national ranking and never flinched.
For most of last Saturday's game, a VSU crowd of some 3,000 sat on its hands, as frustrated as the team itself. Coach Blow tried a multitude of lineup combinations but never found the right one.
Thwarted by Bowie State's aggressive half-court defense, the Trojans were two for 15 from behind the arc and seven for 15 at the foul line.
Aside from Melvin, who was a struggling three of nine from the field, Richard Grandberry was the only other double-digit scorer with 11 points.
Usually reliable Trey Brown was just three for 11 from the floor and settled for eight points in 34 frustrating minutes.
Waymond Wright and Philip Owens, VSU's primary ball handlers, had little luck penetrating Bowie State's defense, and when the ball did get inside, something usually went wrong.
Because of injuries, Coach Blow is experimenting with different players. Freshmen displaying promise against Bowie State were 6-foot-8 William Vedder, who started, and 6-foot-5 Lual Rahama, a spark off the bench.
Vedder, who is from Washington D.C., had four points, seven rebounds and supplied some stellar inside defense.
The hustling Rahama, who is from Sudan, had six points and two rebounds and has become a crowd favorite.
Coach Blow does not feel the injuries to Williams and Holley are serious. He called Williams "day to day" and said he hoped Holley can "start practicing again this week."
VSU fans have little need to panic. The Trojans are 63-14 under Coach Blow during the past three seasons. All systems appear to be a "go" for a spirited finish once the injuries heal.
As the team retreated to its locker after the Bowie State game, Melvin first made a trip to the trainer's room for treatment.
His frustrations and pain typified the team. It's hard doing your best when all your parts aren't working right.