Jada Boyd packs a wallop in VHSL record book
Fred Jeter | 2/2/2018, 6:44 a.m.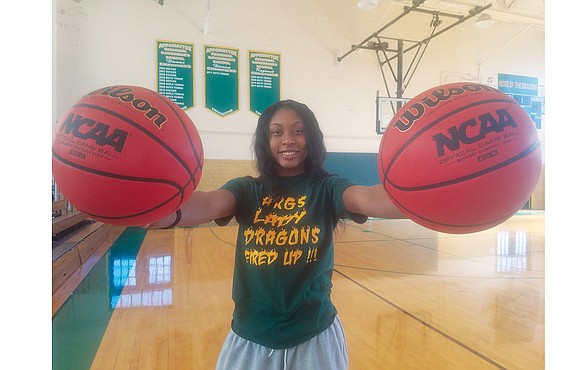 You don't judge a book by its cover. Nor is it wise to judge an athlete by the size of their school.
As it turns out, one of Virginia's elite basketball prospects attends one of Virginia's smallest public high schools.
Meet Jada Boyd, a junior technology major at the Appomattox Regional Governor's School in Petersburg, enrollment 359 for grades 9 through 12.
As a member of the Tri-Rivers District, the Appomattox Dragons compete in Division 1A, the smallest of Virginia's six enrollment classifications.
If you're a college scout, it's likely you've got your GPS set on Appomattox's upstairs gym on Washington Street in downtown Petersburg. The building was home to Petersburg High School until 1974.
"We've had everyone here," Appomattox Athletic Director Rickey Barefoot said. "We've had coaches from the SEC, the Big 10, the ACC. You name it — everywhere."
Virginia Tech, Maryland, West Virginia and Auburn are among those courting the 6-foot-2, 16-year-old Boyd, who wears the green, burgundy and white No. 55 jersey, a tribute to former NBA star Dikembe Mutombo.
Not that Boyd was a secret before, but word spread like confetti in a hurricane on Jan. 10 with her outstanding performance at Franklin.
That was the night Boyd, aka "JB," set Virginia High School League records for the most points — 69 — and rebounds — 33 — in a single game.
Previous records were 68 points by Karen Drewry of Portsmouth's I.C. Norcom High School in 1982, and 28 rebounds by Sam Brundle of William Monroe High School in Standardsville in 2016.
"That night, I wanted (the record) so bad. I was going to score on anyone who stepped in front of me. I was so determined," Boyd told the Free Press.
All that was missing was a victory, as Franklin prevailed 77-75 in overtime.
More than just a tower of power in the paint, Boyd's historic performance featured six 3-pointers and 12 for 21 at the foul line.
It's not uncommon for her to account for most of her team's output. On Jan. 22, Boyd pumped in 41 in a 42-32 win over Southampton.
"We have a very young team and we've had some injuries," said Coach Eric Brower of his 3-8 squad. "Sometimes Jada has three girls guarding her at once."
Despite being a magnet for rival defenses, the Petersburg resident was averaging 38 points, 14 rebounds and five blocked shots through 11 games.
"Sure, it's a little frustrating when we lose," Boyd said. "But I'm enjoying the process of watching my young team grow up."
Boyd, with hands large enough to palm a basketball, hails from tall, athletic stock. Both of her parents played basketball in college. Her mother, Robin, who is 6-foot-1, played for Hampton University. Her father, Rodney, at 6-foot-5, suited up for Grambling State University.
Her older brother Moses, who is 6-foot-8, played for Petersburg High School and now attends Liberty University, although he is not playing ball.
An older sister, Aja, was a standout for the Appomattox Dragons in 2016 that lost in the State 1A final to Norwood 57-52. Jada was a freshman starter on the Appomattox team. Aja is now red-shirted at NCAA Division I University of North Carolina-Greensboro after transferring from Long Island University-Brooklyn.
It was Aja who stirred Jada's interest in hoops.
"At first I wanted to be a cheerleader," said Jada, who kicked up her heels and somersaulted during elementary school for Rock Church Academy. "Then I saw my sister playing in a tournament in Florida, and I thought I needed to give that a try."
A quick and willing learner, Jada began playing at the Petersburg YMCA as a sixth-grader. That led to her suiting up for Peabody and Vernon Johns middle schools before enrolling as a ninth-grader at Appomattox.
She chose Appomattox over Petersburg High for "the curriculum," she said, and also to play one season with her sister.
In addition to making headlines for Appomattox, she has garnered exposure with the powerful Boo Williams travel program based out of Hampton.
With oodles of NCAA Division I scholarship bids, Boyd has narrowed her list of potential colleges to five schools that she prefers keeping to herself.
All this goes to show that the size of the high school doesn't matter for athletes who have talent. Scouts will find the athletes if they've got what they're looking for.