Richmond native's business has all eyes on Oprah
2/16/2018, 2:50 p.m.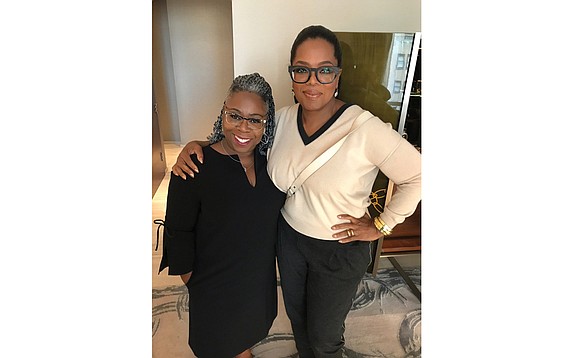 By Ronald E. Carrington
Oprah Winfrey has taken her look to the next level, thanks to Yolanda James, a Richmond native and eyewear boutique owner in downtown Washington.
In delivering her show-stopping speech at the recent Golden Globe awards, in Weight Watchers commercials and daytime television interviews, Ms. Winfrey is sporting eyewear supplied by Ms. James.
The large, gold cat-eye glasses, the dazzling red carpet eyeglass frames and the brainy-looking round specs Ms. Winfrey wears in InStyle magazine's March issue are all from Ms. James' companies, Insight Opticians and Operating Insights.
"I love helping people find the right eyewear according to their prescription and their faces," said Ms. James, whose creative eye for style and fashion have drawn a wide clientele.
"I have a wide range of clients — entertainers, business people, politicians and just folk," Ms. James said. "They are like family."
The former Highland Park residnt said her connection to Ms. Winfrey stems from an encounter about a year ago, when Taroue Brooks, an event planner and publicist, came into her shop.
He was impressed by what he saw, she recalled, and because the shop was owned by a black woman.
"He said that more people need to know about this," Ms. James said.
He pushed her to get professional headshots using makeup artist Derrick Rutledge, who also happens to be the makeup artist for Ms. Winfrey and former First Lady Michelle Obama.
Ms. James said she didn't know about his connection to Ms. Winfrey. She said she let him select two pairs of glasses when he didn't charge her for the makeup session.
Apparently, Ms. Winfrey loved Mr. Rutledge's new look. Her chief of staff called Ms. James a few weeks later, in September 2017, while Ms. James was attending a trade show in Las Vegas.
"She asked if I could come to New York," Ms. James said. "I took my travel case with a hundred pairs of eyeglasses to meet Oprah at her New York office and helped her decide what eyewear worked best to compliment her face.
"Oprah was a great person," Ms. James said. "She was very quiet. There was no music or TV during our 30-minute meeting as we went through the glasses."
Ms. Winfrey bought several pairs that have given her the new look.
"As I was packing up and getting ready to leave, Mr. Rutledge came in," Ms. James recalled. "Oprah wanted to take a picture. I was elated."
Ms. James' journey started on Dunn Street, where she grew up behind Hotchkiss Field in Highland Park.
She graduated from Mary Mount University in 1984 with a degree in graphic arts. She also took a number of management courses, and after a corporate graphic arts internship, she decided that being creative under pressure was not for her.
Eventually, her management courses opened a path to the retail business, where she managed a Lane Bryant store in Richmond and several ladies boutiques and, later, a high-end sunglasses kiosk in Washington.
When the kiosk closed, she moved to Georgetown Optical where she met a brother and sister optical team that took her under their professional wing. She learned to ensure her clients left with better vision and with eyeglasses that fit their unique facial features.
Now, her customer following is burgeoning.
"It's more than just style," Ms. James said.