DaVaughn Kelsie lights it up for Shaw Univ.
Fred Jeter | 2/17/2018, 8:54 a.m.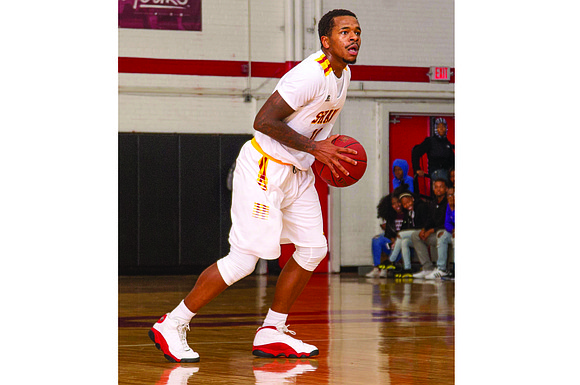 DaVaughn Kelsie is Shaw University's spark from the arc.
The Richmond native leads CIAA basketball in filling the cup from behind the 3-point arc.
Better yet, he was tied for first in the NCAA Division II for long-range connections at the end of last week (Feb. 10).
"If I've got an open look, it's probably going up in the air," the Bears' lithe 6-foot sophomore guard told the Free Press.
Kelsie, who is known as "Scoota," is cool, calm and often on target from the far side of the 20-foot, 9-inch semicircle.
If Kelsie is taking aim, it's probably from long distance. Of his first 246 shots launched this season (through games of Feb. 7), 226 were 3-pointers, with 43.8 percent 3-point accuracy.
His 99 3-point connections (4.41 per game) are tied with Trevon Shaw of Lincoln Memorial University in Tennessee for the most in the NCAA Division II. Limestone College's Kenny Hairston was next at 4.09 per game.
The son of Irene Cosby and Kevin Kelsie, Kelsie starred at Richmond's Thomas Jefferson High School (Class of 2014) under Coach Kendrick Warren, while also playing for various travel teams, including Phenom, Metro and Virginia Stars.
An older brother, Juan Wilson, was a standout at Huguenot High School and Virginia Union University.
At Thomas Jefferson, Kelsie played in the shadows of backcourt teammate Kadeem Wright, who averaged nearly 30 points per game.
There was little in the way of serious college recruiting interest.
To upgrade his résumé, Kelsie spent one season at Elite Prep Academy in Winston-Salem, N.C., before making Coach Joel Hopkins' roster at Shaw University as a walk-on.
There was a bit of an inside connection that led Kelsie from the capital of Virginia to Shaw University, located in North Carolina's capital, Raleigh.
Coach Hopkins is an old college friend from North Carolina Central University with Kelsie's uncle, Robert Bradley.
"My uncle took me to Raleigh for a tryout, and I had a good tryout," Kelsie recalled.
He was red-shirted in 2015-16 before joining the Bears as a freshman a season ago.
Kelsie feels at home popping 3-pointers at Shaw's tiny, on-campus C.C. Spaulding Gymnasium, among the smallest in the CIAA, with a generously listed capacity of 1,500 people.
"It's just like T.J. It reminds me of T.J.," Kelsie said, recalling the cramped gym at his former Richmond high School that opened in 1930 and is known as "The Matchbox."
Often overflowing and raucous, Spaulding Gymnasium is probably the least favorite destination among Shaw's rival teams and coaches.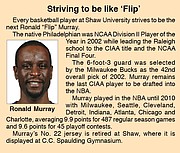 In assessing the Spaulding atmosphere, Kelsie said, "It can get kind of hectic in here."
Despite its modest digs, Shaw is in contention for the CIAA Southern Division title. The Bears were 15-8 overall and 8-4 in the CIAA following a Feb. 7 home victory over Livingstone College.
Kelsie is the squad's second leading scorer overall with a 14.7 average.
If Shaw is to prevail in the Southern Division and make a run at the CIAA Tournament title in Charlotte, N.C., Kelsie will need to hit the bullseye from outside.
But talk about confidence, Kelsie suggests he is so much at home behind the arc that he might even pass up an all-alone layup for a 3-pointer.
"Yes, I think I would pull up for the three on a fast break," he said, unashamedly.
Asked how Coach Hopkins might view that strategy, Kelsie quickly replied, "He'd be cool with it, as long as it went in."