Dr. Wyatt Tee Walker remembered at service
2/22/2018, 7:57 p.m.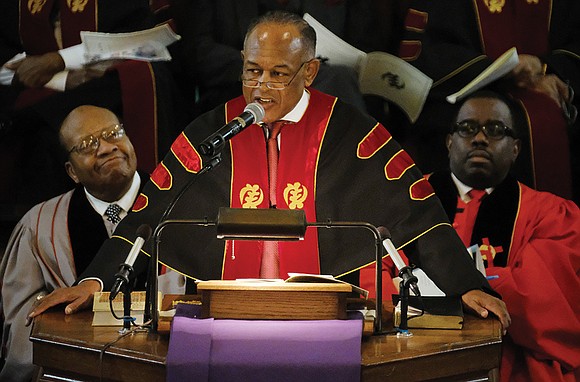 "After all, to have (African-American) mayors and governors and congressmen and even a president was what he fought for as a freedom fighter," Dr. Jones said. "That blacks could sit in seats of power to fight oppression and to provide access to the least of these, and to ensure the rights of every man are protected and that access is provided without regard for a person's ethnicity was what Dr. Walker was all about. When he saw the generations that came behind him fulfilling that, he was extremely proud."
Dr. Jones said he was proud when Dr. Walker and his wife joined his church, First Baptist, in recent years.
Dr. Walker, who served on the faculties of three seminaries and was interim dean of doctoral studies at Union Theological Seminary in New York, published several books in the field of ethnomusicology and was viewed as an authority on African-American sacred music.
The music-filled memorial service included an arrangement by Dr. Walker of the spiritual, "Somebody's Calling My Name." The Rev. Nolan Williams Jr., chief music editor of The African-American Heritage Hymnal, for which Dr. Walker wrote the introduction, also offered a musical tribute.
"The memory of Dr. Walker calls on us to continue contemplating the world not as it is, but as it might be," said Dr. Ronald A. Crutcher, president of the University of Richmond, where Dr. Walker's papers and artifacts will be available to scholars and the public for research.
"Because of all that he shared with us, we do not fear the loss of the memory of Dr. Walker," he continued. "He bequeathed his life's work to our students and to scholars of all ages so that they may be inspired by his messages of equality and hope. We are humbled by our mission and will mind his treasure and preserve his legacy for all days."
A symposium in Dr. Walker's honor is being planned to introduce the collection to scholars and the public next fall, Dr. Crutcher said.