Va. MLK Commission kicks off community meetings March 1 at VUU
2/28/2018, 11:32 p.m.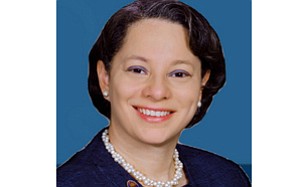 By Alexandra Sosik
Capital News Service
The state's Dr. Martin Luther King Jr. Memorial Commission will observe the 50th anniversary of Dr. King's assassination through 12 "Community Conversations" beginning in March, each one at a location the Rev. King visited in Virginia.
At these conversations, community leaders, religious leaders, historians, educators and residents will join members of the commission in reviewing Dr. King's legacy and his time spent in the commonwealth.
According to spokesperson Lilly Jones, the conversations will reflect on Dr. King's vision of a "beloved community" in each location today and ponder the question he penned in his 1967 book, "Where Do We Go From Here: Chaos or Community?"
Virginia Union University will host the first community conversation 6 to 8 p.m. Thursday, March 1, at the Claude G. Perkins Living and Learning Center on the Lombardy Street campus.
Sen. Jennifer L. McClellan, who chairs the commission, will moderate a panel discussion with Delegate Delores L. McQuinn, D-Richmond; Dr. Corey D.B. Walker, dean of VUU's Samuel DeWitt Proctor School of Theology; VUU graduate student Jamar Boyd II; the Rev. Jim Somerville of First Baptist Church in Richmond; the Rev. Janie Walker of Richmond Hill; and Benjamin Ragsdale, a Richmond resident who met Dr. King twice while working in the civil rights and anti-war movements.
The roundtable discussions are part of the commission's larger project, titled "King in Virginia." In that project, historians, researchers and community members will gather and present information on Dr. King's many visits to Virginia.
Dr. King, who received the Nobel Peace Prize for his nonviolent campaign against racism and segregation, spent time in Richmond, often speaking at VUU. In 1960, he led a march on the State Capitol, where he pushed for the reopening of public schools that were closed during Massive Resistance to desegregation that was ordered by the U.S. Supreme Court in the landmark Brown decision in 1954.
The "King in Virginia" project will create a public online archive bookmarking the activist's time spent in Virginia.
Other "Community Conversations" will be held:
• At the University of Virginia's Old Cabell Hall on March 13
• At First Baptist Church in Farmville on April 24
• At First Baptist Church, 727 Scotland St., in Williamsburg on June 6
• And on dates to be announced in Danville, Hampton, Hopewell, Lynchburg, Newport News, Norfolk, Petersburg and Suffolk.
All events are free and open to the public.
For details, visit the commission's website at http://mlkcommission.dls.virginia.gov/.