On Emancipation Day
The fight continues
1/5/2018, 3:59 p.m.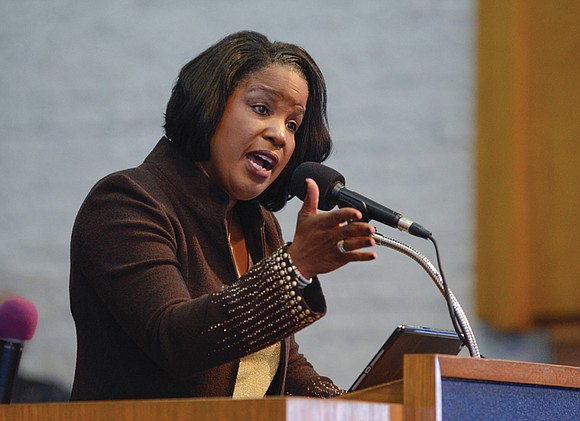 "These are times that try men's souls. We have been on the battlefield, but more than ever we need to be on the battlefield," added the Rev. Delores L. McQuinn, who represents portions of Richmond, Henrico and Chesterfield in the Virginia House of Delegates.
"There are no 'many sides' for people to stand on when you're discriminating, when there's prejudice and hate and racism," she said, referencing President Trump's comments following the violent protest of white nationalists and neo-Nazis in Charlottesville in mid-August.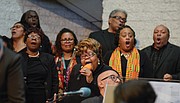 Ms. Brock referenced a letter from former slave and abolitionist Frederick Douglass to newspaperman and abolitionist William Lloyd Garrison, written Jan. 1, 1846. In the letter, Mr. Douglass wrote, "In thinking of America, I sometimes find myself admiring her bright blue sky, her grand old woods, her fertile fields, her beautiful rivers, her mighty lakes and star-crowned mountains. But my rapture is soon checked, my joy is soon turned to mourning when I remember that all is cursed with the infernal spirit of slaveholding, robbery and wrong."
"I am filled with unutterable loathing," Mr. Douglass continued, "and led to reproach myself that anything could fall from my lips in praise of such a land. America will not allow her children to love her. She seems bent on compelling those who would be her warmest friends to be her worst enemies. May God give her repentance before it is too late, is the ardent prayer of my heart. I will continue to pray, labor and wait, believing that she cannot always be insensible to the dictates of justice, or deaf to the voice of humanity."
Ms. Brock said these leaders from the past were different from some of today.
"These clarion leaders, who with fire in their belly for justice, stood flat-footed with an ancestral mandate to speak truth to power," she said. "They were not like some of our wannabe justice, faith and community leaders who simply rush out to our communities for drive-by social justice faith tours.
"We need more ministers and lay leaders who will stand their ground and raise their voice, not only in the sanctuary, not only in the mosque, in the synagogue, in the temple, but … in the public square," she said.
She talked about the biblical passage in Thessalonians describing convictions of steel.
"We need some leaders who have some steel in their convictions," Ms. Brock said.
"What happens to us that we get so absorbed in our own places and houses of worship that we forget that we are to enter to worship but depart to serve?" she asked.
"Service to others is the rent we pay for the space we own."