Henrico man awarded patent for golf cart cover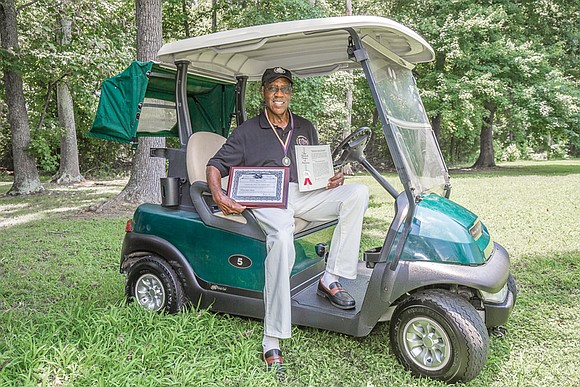 Golf carts have been part of John Houze Jr.'s life for decades.
He's used them as a player and has been around them as a golf course manager and golf shop owner.
He's customized them. He's wholesaled them.
And he drives one to get around the Mitchell Tree subdivision in Henrico County where he lives and the Indian Acres Club in Spotsylvania County where he vacations.
So it just seems appropriate that his first invention would be an improvement for a golf cart.
On May 15, the 84-year-old was awarded Patent 9,969,247 B1 for a retractable golf cart canopy to cover the rear area of the cart that is usually exposed.

"I was thrilled when this patent finally came through," said Mr. Houze, a tall, trim man who speaks crisply. "It takes so much effort and expense to prepare an application. This patent shows I have really come up with something new and different.

The patent is just the first step. He's now in talks with a company that wants to manufacture his canopy and market it to golf cart manufacturers, golf courses and individuals with carts.
"There are millions of golf carts, and most of them could use this canopy," he said. "If just a fraction adopt my invention, I'll do quite well."
He noted that golf carts can be built with an 88-inch roof that would cover the rear area, but those are more expensive. Most carts come with a 54-inch roof that leave the area where golf clubs ride exposed to the elements.
He said that the majority of golf carts today are outfitted with rear seats. He said in some areas, particularly resorts, carts are a popular way to get to the grocery store, a doctor's office or local shops.
His invention involves installing supports on the rear of the cart and attaching the canopy. Like a moon roof in a car, his canopy is moveable so that the back end can be exposed or not, depending on conditions, he said.
If all goes well, he hopes that the canopy can be provided for $150 or less at retail, but he said it would depend on the cost of the manufacturer.
Still, he's proud that he's now a real inventor at his age. "I hope to inspire others to get out of the rocking chair."
It's taken years to get to this point. He said he came up with the idea about 16 years ago while managing the Spring Lake Golf Club in Henrico County. "I had this idea in the back of my mind. Then when I went home I dreamed about it, and it was a full-blown plan."
He said it has just taken time to transform the dream into reality.
Growing up, he never expected golf to be a big part of his life.
He said he only learned the game after getting a job as a car salesman at Richmond Chrysler-Plymouth, the first black person on the sales side.

He said other salesmen would come back from their weekends and talk about their weekend play in a game he knew nothing about.