MLB All-Star Game features dozens of players of color
Fred Jeter | 7/23/2018, 11:11 a.m.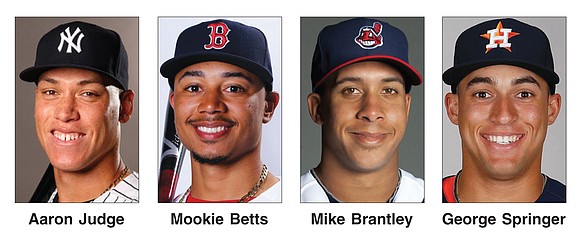 Twenty-four of the 72 players chosen for Major League Baseball's All-Star Game earlier this week are players of color from the Caribbean and South America.
By contrast, seven of the All-Stars are African-American.
Starting lineups for the game played Tuesday at Nationals Park in Washington were selected by fans, with the manager picking the pitchers and reserves.
The American League starting lineup featured five Latinos —Wilson Ramos, Jose Abreu, Jose Altuve, Manny Machado and Jose Ramirez — and two African-Americans — Aaron Judge and Mookie Betts.
Among the National League starters, Willson Contreras and Javier Baez are Latino, and Matt Kemp is the lone African-American.
Some history:
The first Latino All-Star was Chicago White Sox Minnie Minoso from Cuba in 1951.
The first African-Americans participated in an All-Star game in 1949. They were Jackie Robinson, Roy Campanella and Don Newcombe from the Brooklyn Dodgers and Larry Doby from the Cleveland Indians.
Here is a list of this year's All-Stars of color, by nation, and African-Americans selected to compete this week:
Dominican Republic: AL (7) — Manny Machado, Jose Ramirez, Nelson Cruz, Luis Severino, Joe Jimenez, Jean Segura and Aroldis Chapman.
Puerto Rico: AL (3) — Francisco Lindor, Jose Berrios, Edwin Diaz; NL (2) — Javier Baez and Yadier Molina.
Venezuela: AL (4) — Jose Altuve, Salvador Perez, Gleyber Torres and Wilson Ramos; NL (4) — Willson Contreras, Eugenio Suarez, Jesus Aguilar and Felipe Vazquez.
Cuba: AL (1) — Jose Abreu.
Curacao: NL (2) — Kenley Jansen and Ozzie Albies.
Brazil: NL (1) — Yan Gomes.
African-Americans: AL (4) — Aaron Judge, Mike Brantley, George Springer and Mookie Betts; NL (3) — Lorenzo Cain, Matt Kemp and Jeremy Jeffress.
The National League manager was Dave Roberts of the Los Angeles Dodgers, baseball's lone African-American skipper.
Representing Asia was Texas Rangers outfielder Shin-soo Choo from South Korea.
Clearly, the game known as "America's national pastime" has gone international.
Note: This information is based on original rosters. Because of injuries and other defections, there was some roster juggling between the time the teams were announced and the actual game.