Personality: John D. Freyer
Spotlight on first U.S.-based Tate Exchange Associate at Tate Modern, London
3/16/2018, 7:31 a.m.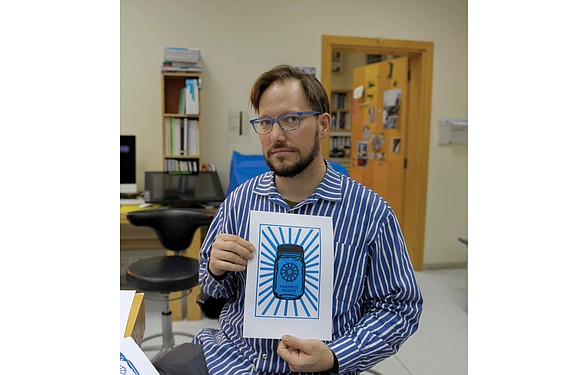 Artist John D. Freyer, an assistant professor at Virginia Commonwealth University's School of the Arts, has a unique specialty.
His "Fifty/Fifty" project, a series of social practice art projects, is explained as "part conceptually based performance art, part turn-of-the-century medicine show" that encourages people to talk about drug and alcohol addiction and recovery.
Because the art projects are staged in public spaces, such as galleries, museums, on college campuses and around town, people initially aren't aware they are part of the "audience" and engaged in social practice art. The resulting casual conversations help de-stigmatize people recovering from addiction and those that support them.
Now Mr. Freyer's work is going global.
The artist, author and educator was selected to be the first U.S.-based Tate Exchange Associate at Tate Modern in London, an internationally recognized institution housing the United Kingdom's national collection of British art, as well as international modern and contemporary art.
From June 26 through July 1, Mr. Freyer will stage his "Fifty/Fifty" series at Tate Modern. "Addiction and recovery is a global issue that needs to be dealt with on an intensely local level and, often, at a granular level as a single conversation," Mr. Freyer says. "I welcome this opportunity to share my projects, story and good conversations over glasses of water, freshly brewed coffee and regionally specific simple suppers."
"Fifty/Fifty" was developed "out of my personal experience of being in recovery," Mr. Freyer says. "Free Hot Coffee," or Coffee Bike, is one of the projects in the series that will be featured at the Tate. The bike is a mobile hot coffee kiosk operated by students that either are in recovery or are allies of those in recovery. The bike travels around campus and around town. Operators make coffee the old-fashioned way — grinding coffee beans, putting them in a paper filter and pouring hot water over the beans to makes the coffee in 3 to 5 minutes.
"They serve it in metal cups that can't be taken away," Mr. Freyer says. "So it makes space for people to have a conversation with each other about where we are as a country, about opioid addiction and reducing the stigma attached to recovery."
The interaction with people in recovery may help shift negative perceptions about people struggling with addiction, Mr. Freyer says.
"What people find when they interact with students on the coffee bike is that these young people are nearly indistinguishable from the kids that are walking around getting coffee from the coffee bikes," he says. "There are a tremendous number of high achievers at VCU that are part of the recovery group. The students I work with are committed to maintaining sobriety through graduation in the university setting, which, you can imagine, is pretty recovery-hostile."
In January, Mr. Freyer produced "Recovery Roast" for Tate Exchange. He worked in collaboration with the Tate Roastery and participants in recovery. The specially roasted coffee will be brewed and served during Mr. Freyer's residency and project in London.
The opportunity to go global began last fall when Churchill Fellow Dot Turton, CEO of Recovery Connections, a peer-led organization in London, was researching collegiate recovery programs in America. A colleague directed her to VCU and Mr. Freyer.