Personality: John D. Freyer
Spotlight on first U.S.-based Tate Exchange Associate at Tate Modern, London
3/16/2018, 7:31 a.m.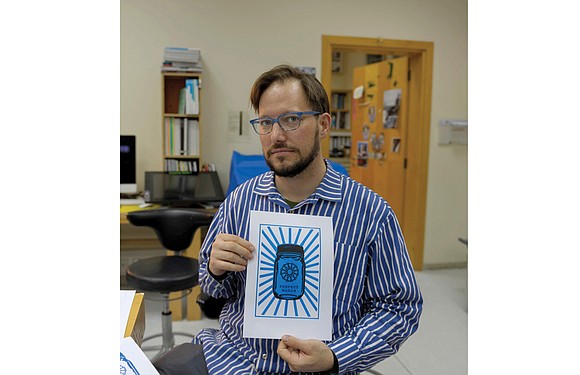 "She became one of our primary partners, as well as a connection to the Tate museum in London," Mr. Freyer says.
Subsequently, Mr. Freyer was told about the Tate Exchange program, applied and was accepted. Now in its second year, Tate Exchange explores how art makes a difference to society and creates a common space for the public to debate contemporary topics and ideas, to get involved and make a difference. VCU School of the Arts and Mr. Freyer are the Tate Exchange's first U.S. partners. While happy, Mr. Freyer is circumspect about the opportunity as a person in recovery. "The joy in my life is to be present and sober, with the ability to serve my family and my students in a way that I hadn't been able to before."
Meet artist-activist and this week's Personality, John D. Freyer: Latest accomplishment: First U.S.-based Tate Exchange Associate at Tate Modern in London
Date and place of birth: Syracuse, N.Y., in 1972.
Current home: Richmond.
Alma maters: Bachelor of arts, Hamilton College in Clinton, N.Y.; master's of arts and master's of fine arts, University of Iowa.
Family: Wife, Sasha Waters Freyer, and daughters, Georgia, 13, and Ruby, 10.
The importance of Tate Exchange: The Tate Exchange has 60 associates both from the United Kingdom and internationally. These include charities, universities, health care trusts and community organizations working within and beyond the arts. Now in the second year, associates at Tate Modern and at Tate Liverpool are working closely with one another and with Tate to respond to the theme of "production." Their participatory program of workshops, activities and debates takes place throughout spring and summer 2018.
Impact being Tate Exchange Associate will have on VCU students: Student interns have supported the "Fifty/Fifty" projects, from posters and branding to helping shape a choral work that I created to premiere at the Tate in June.
Why I became a teacher: I wanted to share my interests and expertise with students.
Teaching philosophy: My unique appointment as an assistant professor of Cross Disciplinary Media at the VCU School of the Arts affords me a diversity of teaching opportunities. My multidisciplinary practice intersects with departments and research units across VCU and my teaching philosophy reflects that diversity. My primary teaching and advising responsibilities are within the Department of Photography and Film, where I teach graduate MFA and undergraduate photography and film majors at all levels of the curriculum.
"Fifty/Fifty" project is: A traveling series of interdisciplinary, social practice art projects fostering dialogue on addiction and recovery. "Fifty/Fifty" is comprised of "Free Ice Water," "Free Hot Coffee" and "Free Hot Supper," each respectively creating a space for solitude and self reflection, outreach and conversation, and community dialogue with diverse and often unexpected audiences. This project, like my previous online performance project/book, "All My Life for Sale," embodies the core of my artistic practice, which is the engagement with "accidental" audiences for art, whether from an interaction with my mobile pour-over coffee station serving "Recovery Roast" coffee, or stopping for an ice cold glass of water on hot days on the streets of Richmond, Doha, New York City, Chicago or Iowa City. Initially, participants in my projects are unaware of their involvement in a social practice art work. The vast majority of them appreciate the gesture of free hot coffee and free ice water and walk on by. But some of them need to know more. They ask, "Why is this here?" "Who is responsible for this?" and "Why are they doing it?" Art, for me, creates space for dialogue and conversations about what it means to live in community.