Coach Tubby Smith gets the boot at Memphis
Fred Jeter | 3/23/2018, 9:42 a.m.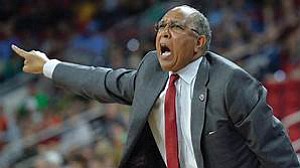 Memo to colleges in search of a new basketball coach: One of the very best, Tubby Smith, is available again.
With Richmond roots, Smith is among college basketball's most successful coaches. He is also among the most traveled.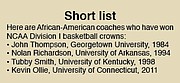 The former Virginia Commonwealth University assistant coach was fired March 14 from the University of Memphis despite a 21-13 record this season and a 40-26 mark over two campaigns.
University officials cited dwindling attendance and donations for its decision. The school was eager to bring alumnus and former NBA star Penny Hardaway aboard. He was hired Tuesday as Coach Smith's successor.
"After 39 years of college coaching, I know that change happens and I wish the university and the team the best as they pursue a new direction," Coach Smith tweeted.
The 66-year-old former Richmonder has surpassed John Thompson as the most winning African-American coach in NCAA Division I history.
Coach Smith boasts 597 career victories compiled at six different schools, one more than Coach Thompson's 596 wins at Georgetown University from 1972 to 1999.
Coach Smith is one of just four African-American coaches to win NCAA titles. He joins Thompson, Nolan Richardson and Kevin Ollie. Coach Smith's University of Kentucky Wildcats won the title in 1998.
Richmonders fondly remember Coach Smith as an assistant under former VCU Coach J.D. Barnett in 1979 to 1986. The Rams were 144-64 during that stretch, with three Sun Belt titles and four NCAA berths.
Since then, Coach Smith has bounced around. He was head coach at Tulsa (1991-1995), Georgia (1995-1997), Kentucky (1997-2007), Minnesota (2007-2013) and Texas Tech (2013-2016) prior to going to Memphis, where he signed a five-year contract worth $15.45 million.
Breaking up is hard to do. Memphis owes Coach Smith $3.25 million for each of the next three seasons.
Along with Lon Kruger, who is now at the University of Oklahoma, Coach Smith is one of two coaches to lead five different schools to the NCAA Tournament.
More coaching chapters are likely to be written by Coach Smith.
"As a lifetime competitor, I believe that the game never ends, and I'll be exploring the next move on and off the court in the coming weeks," he tweeted.
Generally, about 50 Division I jobs open each year.
Among the schools with vacancies currently are Louisville, East Carolina, University of North Carolina-Charlotte, Longwood and, coincidentally, High Point University, Coach Smith's alma mater. Others surely will follow.
Before Coach Smith became famous as a coach, he was an outstanding college player at High Point, now a member of the NCAA Division I Big South Conference.
Coach Smith was a star guard at High Point from 1969 to 1973 playing under Coach Barnett. High Point then was in NCAA Division II. When Coach Barnett got the VCU job, he hired Coach Smith to be his aide.  
Two years ago, Coach Smith and his wife, Donna, donated $1 million to High Point University to help fund its new basketball arena. High Point's court is named in the Smiths' honor.