Tubby Smith hired to coach at Memphis
Fred Jeter | 4/22/2016, 6:30 a.m.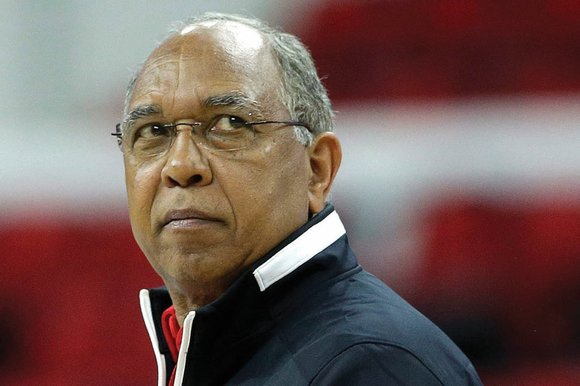 Tubby Smith, whose coaching roots can be traced to Virginia Commonwealth University, is on pace to become the most successful African-American basketball coach in NCAA Division I annals.
Smith, 64, was hired last week at the University of Memphis after spending the past three years at Texas Tech University.
In coaching stops at Tulsa (1991-95), Georgia (1995-97), Kentucky (1998-2007), Minnesota (2007-13) and Texas Tech, he has amassed a record of 557-276 (67 percent).
He was 46-50 overall at Texas Tech, but the Red Raiders were 19-13 this past season and made it to the NCAA Tournament.
By comparison, John Thompson posted 596 wins at Georgetown University (1972-1999), becoming the all-time leader among African-American coaches at Division I universities.
Trailing by 39 wins, Smith would need two solid seasons at Memphis to pass Thompson as Division I's all-time winningest black coach.
Next are John Chaney, with 516 wins (1982-2006) at Temple University, and Nolan Richardson, with 508 victories at Tulsa and Arkansas. Leonard Hamilton has 479 wins at Oklahoma State, Miami and Florida State, where he now coaches.
Kelvin Sampson has 464 wins at Washington State, Oklahoma, Indiana and his current school, Houston.
Virginian Oliver Purnell has 448 wins at Radford, Old Dominion, Dayton, Clemson and DePaul.
Richmonders recall Smith, who played at High Point University in North Carolina, as the young assistant coach under former VCU Coach J.D. Barnett from 1979 to 1986. During that time, the VCU Rams were 144-64, with the school's first four NCAA appearances.
At the University of Memphis, Smith succeeds Josh Pastner, who left to become coach at Georgia Tech. The Tigers were 19-15 last season.
Smith (1998 at Kentucky), Thompson (1984 at Georgetown), Richardson (1994 at Arkansas) and Kevin Ollie (2014 at Connecticut) are the only black coaches to win NCAA Division I titles.
Smith and Lon Kruger, now at Oklahoma, are the only coaches to take teams from five different universities to the NCAA Tournament.
Discounting division of play, Clarence E. "Big House" Gaines had the most wins of any African-American coach. Gaines had 828 victories at Winston-Salem State University from 1946 to 1993 when the university was in the NCAA Division II.
There is a relatively short history of black coaches in Division I. The first was Will Robinson at Illinois State University in 1970.
Among Smith's first tasks at Memphis will be to try and retain returning Tigers, some of whom have talked of transferring. Perhaps most notable is 3-point shooter Avery Woodson, who has made trips to Butler and VCU regarding transfer destinations.
There is at least one more VCU-Memphis connection. In 1979, Dana Kirk left VCU after three coaching seasons to become the coach at Memphis. Kirk was succeeded at VCU by Barnett, who chose Smith as an assistant.