Cool in the hot seat
Christy Coleman, co-chair of the Monument Avenue Commission, is no stranger to controversy or leadership, even on issues of slavery and the Civil War
5/19/2018, 1:05 p.m.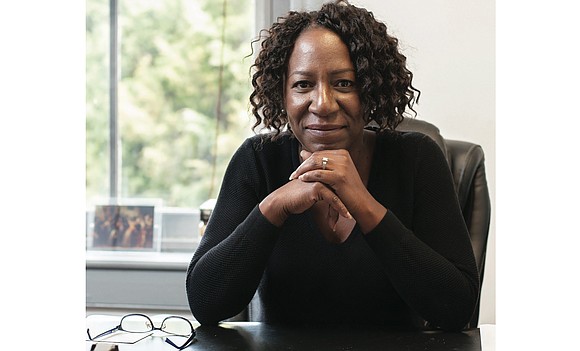 By Johnnie L. Roberts
The Clarks, who were slaves rooted in Tennessee, outlasted brutal bondage, fled the wrath of white supremacy shortly after Emancipation and became founding settlers of Eatonville, Fla., one of the country's earliest self-governing black municipalities.

The Clarks' experience, like that of many enslaved individuals, shows "their incredible resilience, resolve and a certain dignity" in the face of unspeakable inhumanity, says Christy Coleman, chief executive officer of the American Civil War Museum in Richmond, one of the most authoritative museums on the nation's ugliest chapter.
Had the Clarks been able to look into the future as Ms. Coleman is able to see the past, they likely would have considered Ms. Coleman, a Clark descendant, to be incredible, too.
Ensconced in the cradle of the former Confederacy, Ms. Coleman, 54, presides over a Downtown cultural institution and the Monument Avenue Commission civic panel seeking to advance a broadened and inclusive meaning of the war and its aftermath. Quietly marking her 10-year anniversary at the museum, the public historian has been asserting the perspective of, among others, slaves and their immediate descendants into or alongside whitewashed narratives of the Confederacy, Civil War, Emancipation and Reconstruction. As a result, the history of that anguished era is gaining new dimensions that now increasingly incorporate the arc of not only the Clarks' experience but of every slave.

Aside from her duties at the museum, Ms. Coleman also presides in the shadow of an imminent and momentous decision on the fate of Richmond's monuments to the Confederacy.
Despite its tragic overshadowing by a racist murder during a rally of neo-Confederates and white supremacists last August in Charlottesville, Richmond, the capital of the former Confederacy, is where America's most far-reaching fault line over race, history and heritage runs. It runs deepest along iconic Monument Avenue, home to five imposing statues of Confederates, including its military mastermind Robert E. Lee and Jefferson Davis, the Confederacy's president.
Ms. Coleman is guiding the Monument Avenue Commission with a co-chairman. Mayor Levar M. Stoney, who appointed the 10-person commission last summer, charged it to gather public comment to boil down into recommendations for the monuments' disposition. Ms. Coleman and her colleagues will be culling options for possibly exiling the monuments or letting them stay put, but depicting their darkest sides, including the misery of chattel slavery.
The commission expects to report to Mayor Stoney before the end of May, which would nearly overlap with Virginia's Confederate Memorial Day — May 28 — honoring the war dead. The coincidence is said to have some civic leaders, Richmond officials and others worried that Monument Avenue could become a holiday gathering point for extremists.
A decision on the statues by Mayor Stoney and Richmond City Council is likely to come during the summer. Legal showdowns, the Virginia General Assembly and even the federal government could have a decisive say, ultimately.
"Christy is independently minded, fact-oriented and direct," says Mayor Stoney, who introduced himself after she impressed him with a public speech a few years ago. "She has the ability to also listen without any sort of partisan color and just take it all in."