Ohioans looking to take it to the hoop at VSU
Fred Jeter | 11/21/2018, 6 a.m.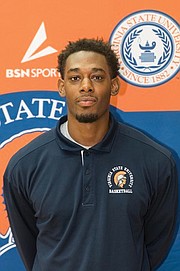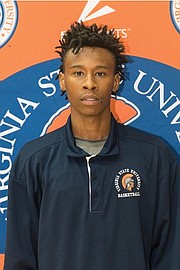 Williams injured
Pre-season All-CIAA wing Walter Williams is out indefinitely at Virginia State University. The senior out of Henrico High School suffered a broken bone in his foot in the Trojans' loss to Indiana University of Pennsylvania on Nov. 10. Coach Lonnie Blow declined to speculate on when Williams might return to active status.
Jahmere Howze and Jalen Jackson took far different routes while reaching the same basketball destination.
The former teammates at Ohio's Warrensville Heights High School near Cleveland are back together as seniors at Virginia State University. They've wasted no time becoming fan favorites.
Howze, who is 6-foot-6 and 230-pounds, has led the Trojans in scoring (12.8 points per game) and rebounds (nine) during VSU's 2-2 start.
"He's someone with a lot of skills," VSU Coach Lonnie Blow said of Howze. "He can play inside and out and is one of our best passers. He does a lot of things."
A lithe 6-foot-2, 175-pounds, the quicksilver Jackson is third in scoring (9.0), second in assists (2.5) and third in 3-pointers (six total) while hitting 80 percent (8 of 10) at the foul line.
"He's a talented kid who can play point guard or shooting guard," Coach Blow said of Jackson. "He gives us another 3-point threat."
Long and winding itineraries led the native Ohioans to VSU's sparkling Multi-Purpose Center.
Howze flexed his muscles for two seasons at Urbana University in Ohio and last year at the California University of Pennsylvania. He averaged 16.2 points and 6.3 rebounds last season for the NCAA Division II school in Pennsylvania.
Jackson played at the University of Tennessee-Martin and Neosho County Community College in Kansas prior to enrolling at VSU in the fall of 2017. He was red-shirted last year after suffering a preseason knee injury.
It's a small world, as they say. At Neosho County Community College, Jackson played with Richard Granberry, who went on to become a two-time, All-CIAA post player for VSU during the last two seasons.
Howze essentially is now playing the same position vacated by Granberry. It wasn't coincidental.
"It was really Jalen who recruited Jahmere to Virginia State," Coach Blow said. "They knew each other from high school and maintained a friendship.
"I've always said your players are your best recruiters, and that was the case here."
Another VSU senior transfer is 6-foot guard Cedric "CJ" Wiggins, a regular the past two seasons on MEAC championship teams at North Carolina Central University.
Wiggins, a former All-State standout at Benedictine Prep, averaged 8.3 points and was leading the Trojans with 12 assists through four games.
So far, Wiggins is filling the role of lead ball handler and aggressive perimeter defender vacated with the departure of last year's assists leader, Waymond Wright.
Wiggins had 13 points while hitting three 3-pointers in VSU's 70-51 win over St. Augustine University last Saturday in Raleigh.
He may be the first Benedictine Cadet to ever suit up for the Trojans.