CARE van drivers again reject latest contract offer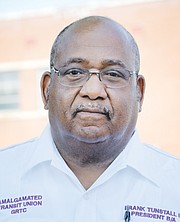 Unionized CARE van drivers have rejected the latest contract offer from First Transit, the company that operates GRTC's door-to-door service for the elderly and disabled.
Frank Tunstall III, president and business agent for Local 1220 of the Amalgamated Transit Union, said CARE van operators voted against the company's "final" offer last Friday.
He did not provide details about the offer nor has the company issued a comment.
However, Mr. Tunstall said union members found the offer inadequate, just as they did in July when they rejected the first offer, which included a pay increase of $1 to $1.15 per hour.
Pay for CARE van drivers currently ranges from $12 an hour to $13.55 an hour, well below the pay for GRTC bus operators.
Mr. Tunstall said Monday that he notified the company and the federal mediator who has been involved for three months about the Oct. 5 vote and "informed them that the union is still willing to negotiate. The ball is in their court."
He previously said the drivers, who include about 70 full-time and about 20 part-time employees, do not want to strike and disrupt the service.
At this point, drivers are continuing to work under the terms of the contract that expired last December while waiting for a better contract offer from First Transit.
As the Free Press previously reported, the contract between GRTC and First Transit includes sufficient revenue for First Transit to employ more than 90 full-time CARE drivers and to pay each of them more than $19 an hour.