RPS dealing with bumps in student transportation system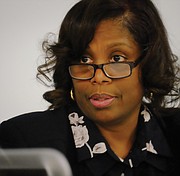 Richmond School Board Chairwoman Dawn Page continues to find bumps in the road in the school system's hub stop system, where students attending certain schools have to walk to their nearest school to catch a bus to their high school or middle school.
In early September, Ms. Page and several others called attention to the problems by setting out from Kenmare Loop and Bathgate Road in South Side to reach the transportation hub at Boushall Middle School. The route was more than 2½ miles and took more than a hour to walk.
Herbert Moses said his children, Kristal and Herbert Jr., would have to walk that distance daily to catch their bus to Lucille Brown Middle School to participate in the International Baccalaureate program.
The family lives in Adams Park near Ironbridge Road on South Side, which is not in the Lucille Brown school zone.
Frustrated by the time and distance his children would have to go to catch a bus, the disabled Vietnam veteran drives them to school and picks them up.
For the last two years, Mr. Moses has written Richmond Public Schools officials and City Council seeking more money for transportation and to re-establish a bus stop in the Adams Park neighborhood.
"RPS needs more buses and drivers because of the major issues about transportation, including the hub system that was not properly thought out," Ms. Page said following the walk.
"Students can apply to the specialty schools, but the family may not have a means of transportation to get to the hub location. That's an injustice."
Students attending the IB program at Thomas Jefferson High School, Franklin Military Academy, Richmond Community High School, the Maggie L. Walker Governor's School and Lucille Brown and Binford middle schools are transported via hub stops.
Damon Richardson, RPS' director of systems and process improvement, and Floyd Miles, director of pupil transportation, are to address additional transportation concerns at the next School Board meeting.
Currently, because of an insufficient number of bus drivers, high-volume routes require double runs and even triple runs, adversely affecting arrival times at schools..
To stabilize the system, RPS needs 12 additional full-time drivers and 25 substitute drivers to fill 37 driver positions.
Another recruitment challenge is low pay and lack of benefits because the positions are part time. The School Board-approved bus driver pay rates are far lower than the salary a driver with a commercial driver's license can earn with a national trucking chain.
The metro region's average bus driver's pay rate is $14 per hour; national trucking companies pay between $16 and $36 per hour. That disparity results in fewer drivers.
To improve system bus tracking and communication, RPS now uses GPS tracking to know where buses are at all times and to better communicate their location and estimated time of arrival to schools and families.
Parents can now download the "MyStop" mobile app, which allows them to "see" the bus coming to their child's stop.
School administration and staff use "Arrival Boards," which allows them to "see" the buses arriving to their schools.
For real-time routing, the RPS transportation team uses "Versatran" for bus positioning, tracking speed of buses, fuel levels and other bus maintenance data.
Inadequate transportation is but one the issue RPS faces, but there was a bright light at the dawn of the new school year.
RPS Shines! was the bright spot that brought out volunteers from businesses, universities and neighbors to improve bathrooms in at least 22 schools.
Superintendent Jason Kamras indicated that more bathrooms will be improved during the coming months.
Fresh and brightly colored painted walls with inspirational murals and messages greeted students as they entered bathrooms that they once shunned and refused to use.
School Board member Cheryl Burke, 7th District, did a walk-through at Armstrong High School before the first day of school to check every door, flush every toilet and turn on each faucet and water fountain.
"I was very pleased with the improvement of the facility. I am going back at the end of September to make sure these improvements are sustained or we will have to do it again," Ms. Burke said.
Mr. Kamras visited 10 schools on the first day and expressed his thanks to all volunteers.