Brian Brown strategizing for Monument Ave. 10K 'Dash for Cash' contest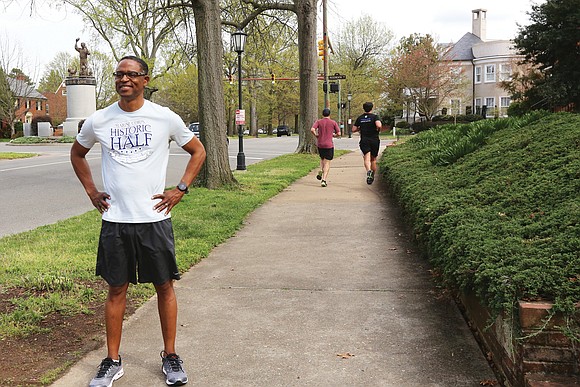 Runners, take your mark ... 
Event: Monument Avenue 10K road race
Date: Saturday, April 13
Kids Run: Starts at 8 a.m.
10K: Starts at 8:30 a.m.
Starting line: West Broad Street near Harrison Street
Finish line: Franklin Street near Shafer Street
Established: 2000
Promoter/organizer: Richmond Sports Backers
Participants: About 25,000 runners and walkers
Sanctioned: USA Track & Field
Records: Reuben Chebii of Kenya set the men's record of 28:07 in 2004; Kenyan Magdalene Makunzi set the women's standard of 32:24 in 2006.
Added attractions: This bold-letter Richmond event features numerous bands and spirit squads along the route, in addition to a popular "dress-up" division. Expect some runners to wear wacky, whimsical costumes.
If Brian Brown appears a bit on edge this week, it's understandable.
He's stretching his muscles and plotting strategy for what figures to be the footrace of his life — and certainly the most observed race in his 53 years.
The Mechanicsville resident was chosen at random as the "Dash for Cash" contestant for the Monument Avenue 10K this Saturday.
With the benefit of a 2-mile head start in the 6.2-mile endurance test, Brown can earn $2,500 by outrunning the pack of elite runners to the finish line.
Based on personal records, Brown would appear to be facing difficult odds. He'll have to improve his previous times by some 30 seconds per mile.
But it's "doable," he modestly predicts. "I should feel extra wind at my back."
As a Virginia Commonwealth University marketing professor, Brown knows a few things about developing a winning game plan.         
Here are some reasons why he believes he can improve his per-minute clockings from eight minutes-plus, to a wee bit under eight.
Shorter distance: "I only have to run four miles instead of about six, so I don't have to pace myself as much," he noted.
A great cause: He will be running in honor of his sister-in-law, Julie Dickson Brown, who died of cancer in 2016. Should Brown fail to win, the VCU Massey Cancer Center receives the $2,500. If victorious, Brown vows to donate a portion of his windfall to the cancer center. 
Less traffic: "Normally at the start you lose about a minute having to get through so many people," he said. "This time, I'll have the road to myself."
He'll have plenty of sideline company, however. Both sides of Monument Avenue will be lined with excited spectators.
Family affair: Brown hopes his son, Brandon, 17, and daughter, Chelsea, 14, will be running Saturday — both are registered — and that his nephew, Kaelan Brown, the son of his late sister-in-law, will be on hand to offer encouragement.
Also in attendance will be Brown's wife, Angela "Nikki" Brown. "I've been doing this so long that she's grown tired of it and doesn't often come," Brown said. "But this time, she'll be there, near the finish line."
Some background: Brown grew up in Alexandria and played varsity soccer for T.C. Williams High School and later in the University of Virginia's intramural soccer program.