Brian Brown strategizing for Monument Ave. 10K 'Dash for Cash' contest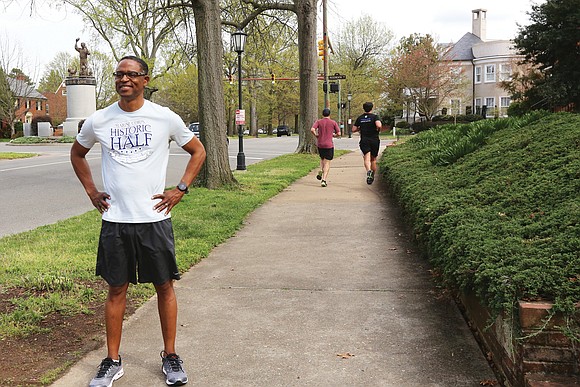 He was a college senior in 1984, the last time the Virginia Cavaliers went to the NCAA Basketball Tournament Final Four. Coincidentally, his beloved Wahoos competed in the Final Four last week for the first time since then.
A devoted hoops fan, Brown noted the "stars of the team" in 1984 included "Olden Polynice, Othell Wilson, Ricky Stokes and Jimmy Miller ... remember them?" he asked a reporter.
With basketball season having concluded with U.Va. winning the NCAA title Monday night. "The Professor" will exert all his mind and muscle power on negotiating Monument Avenue's east and westbound lanes.
Although Brown has at least a decade-long history of road races, he knows this "Dash" challenge will be steep.
Last year, Brown ran the 10K in 50:36. The overall champ was Matt McDonald in 30:10. Times have slowed a bit since touring Kenyan and Ethiopian athletes scratched Richmond from their itinerary.
To start Saturday's race, Brown will be so far in front it'll look like a one-man act, even though the congested 10K start has been described as the scene from "The Ten Commandments" where Moses leads his people out of Egypt.
As the seconds and minutes pass, and as his sweat flows, knees quiver and lungs cry, Brown's lead will continually dwindle as the younger, faster runners kick up their heels in relentless pursuit.
Eventually, Brown is apt to hear footsteps pounding the pavement behind him, becoming louder and louder. His ears may even catch the drift of heavy breathing from his fast-charging adversaries.
With the pressure on and crowd at full throat, can he hold them off?
At such stressful times, a runner might consider this famous quote by baseball icon Satchel Paige:  
"Don't look back. Something might be gaining on you."