History marker dedicated to Charles City County lynching victim
4/12/2019, 6 a.m.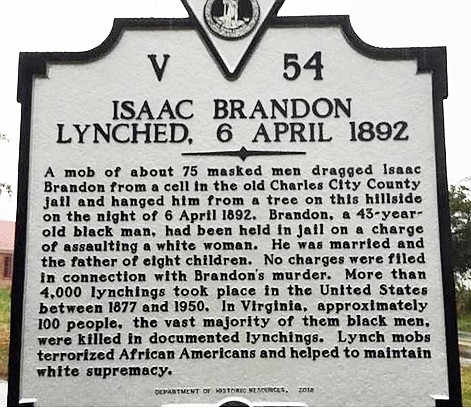 Virginia's first history marker to a lynching victim now stands near the historic courthouse in Charles City County.
The new marker recalling the brutal hanging of Isaac Brandon was dedicated Sunday, April 7, 127 years almost to the day when it happened.
Mr. Brandon, a 43-year-old African-American who was jailed after being accused of assaulting a white woman, was dragged from his cell at night and hanged by a mob estimated to include 75 masked men, according to the marker issued by the Virginia Department of Historic Resources.
The killing occurred on April 6, 1892, the marker states.
Virginia State Sen. Jennifer L. McClellan and Tish McDonald, a great-great-granddaughter of Mr. Brandon, were among the speakers at the dedication event.

The marker, which was sponsored by the Charles City County Branch NAACP and the Richard M. Bowman Center for Local History, notes that Mr. Brandon was the married father of eight children.
As was typical in such cases, "no charges were filed in connection with Brandon's murder," the marker states.
"Lynch mobs terrorized African-Americans and helped to maintain white supremacy," the state marker states.
Mr. Brandon, the marker notes, is an example of the 100 people killed in documented lynchings in Virginia between 1877 and 1926 and one of 4,000 people, mostly African-Americans, killed in reported lynchings in the country through 1950.
The numbers apply only to lynchings and do not include African-Americans who were shot, knifed or beaten to death during that period and later, or those who were falsely accused, convicted and executed by the state. — JEREMY M. LAZARUS