Michael Thomas: No boast, all fact
Fred Jeter | 12/27/2019, 6 a.m.
Michael Thomas' twitter handle is "Can't Guard Mike," and he lives up to the boastful tag.
The New Orleans Saints' prolific receiver threatens to not only re-write the NFL record book, but to tear out the pages and crumble them up.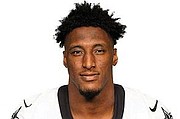 The 26-year-old, fourth-year All-Pro out of Ohio State University has surpassed Marvin Harrison's record for the most receptions in a season.
Thomas had 12 catches — for 136 yards and a touchdown — in the Saints' 38-28 win over the Tennessee Titans last Sunday to break a record Harrison had held since 2002.
It marked the ninth time this season Thomas has had double-digit receptions, another NFL record.
And down the road, with good health, even the iconic Jerry Rice's seemingly untouchable career numbers may be challenged.
In his first three seasons teaming up with Saints quarterback Drew Brees, Thomas caught 321 passes, by far the most ever for three years.
Tied for second (three-season totals) are Odell Beckham Jr. and Jarvis Landry with 288 each.
Despite his emergence as clearly the NFL's top receiver, Thomas' name wasn't called in the 2015 draft until the second round. He was the 47th overall pick. Wide receivers drafted ahead of him were Corey Coleman (15th), Will Fuller (21st), Laquon Treadwell (23rd) and Sterling Shepard (40th).
At the NFL combine, Thomas was timed at 4.57 seconds for the 40-yard dash, with a 35-inch vertical leap, 10-6 standing broad jump and 18 repetitions at 225 pounds for the bench press.
Those are impressive figures, but only about average for an NFL wideout. It's Thomas' rare talent to figure out the defense and find the open spot — often dodging double coverage — that makes him so special.  
The Southern California native enjoyed three standout season at OSU before opting for the NFL a season early before graduating.
At OSU, he was the roommate of quarterback Cardell Jones, the MVP on the Buckeyes' 2014 National Playoff Championship. Thomas had four receptions for 53 yards in the title matchup.
That OSU squad, also showcasing running back Ezekiel Elliott, who is now with the Dallas Cowboys, defeated the University of Oregon 42-20 for the title.
Thomas' jump from OSU to the New Orleans Saints was seamless. He had 92 catches for 1,137 yards as a rookie.
In an interview with Steve Serba of the New York Post, Thomas pointed to three factors for his dazzling success: "My hands … the way I know how to create separation (from defenders) ... and probably my competitiveness for sure; and not caring about who's in front of me."
For the most part, Thomas' receptions are in the short to medium range, although he is an effective runner after the catch. He averages about 12 yards per catch.
Working with Hall of Fame bound Brees is a huge help, but Thomas' performance didn't drop off earlier this year when Brees was sidelined with a broken hand.
With Teddy Bridgewater filling in for Brees in Games 2 through 8, Thomas' totals never dipped. In a 26-9 win over the Atlanta Falcons on Nov. 10, Bridgewater targeted Thomas 14 times, resulting in 13 grabs for 152 yards.
Wearing jersey No. 13, Thomas was at his all-time best in the Saints' 34-7 win over the Indianapolis Colts on Dec. 16, with Brees back in business.
Brees threw 12 times to Thomas. All 12 resulted in completions, good for 128 yards and eight first downs.  
Catching passes runs in his family. Thomas is the nephew of Keyshawn Johnson, a three-time, All-Pro NFL receiver from 1996 to 2006.
Opposing defenses know what the Saints are going to do, but they can't seem to stop it.
Thomas' "Open" sign is never taken out of the window. 
"Can't guard Mike" isn't just a boast; it's a reality.