Armstrong High scholar-athlete taking his talents to U.Va.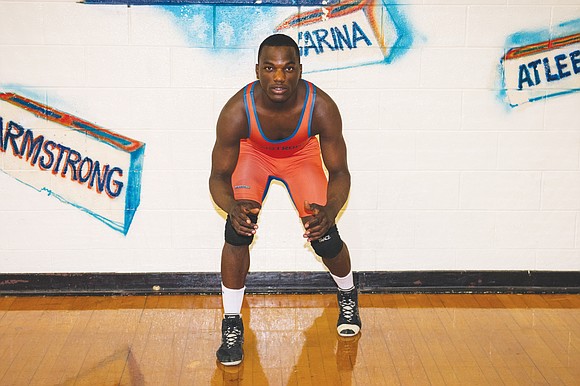 Hollywood has produced numerous Superman movies over many decades.
Should another sequel come to a theater near you, Corvell Poag could be the star.
The new Armstrong High School graduate has excelled in so many ways one might suspect he wore a cape and flew to school rather than take the yellow bus.
"Corvell is pretty much the ultimate student-athlete," said Armstrong Activities Director Glenn Anderson.
"He's the kind of young man every coach wants to coach, and who every teacher wants to teach."
First the academics: The 18-year-old Poag was Armstrong's senior class president and salutatorian of the Class of 2019 with a 4.06 GPA.
Then there was his athletic side: Poag competed in football, track and field, tennis, soccer and, largely, wrestling.
On the mats, he was 80-22 for his career with the Wildcats, including 31-7 this season. Twice he earned All-State Class 3 honors.
There is more: Poag was a member of the Student Ambassadors, the Leadership Program, the Law Club and Mock Trial Team, among other clubs.
So how did he find time?
"There really wasn't time, so I had to make time," he said.
When others were heading home after the final school bell, Poag was just warming up.
"Never, never once did I go straight home after the final class," he said.
Nicknamed "Mr. Everything," Poag makes it look easy.
But it hasn't been easy. His family often was on the move.
"I've lived in North Side, South Side and Hampton on two occasions," he said. "We pretty much got evicted from every house we ever lived in."
Poag attended three middle schools — Henderson and Martin Luther King Jr. in Richmond and Benjamin Syms in Hampton.
Asked about elementary schools, he said, "I can't begin to tell you how many."
He's quick to praise the many mentors in his life and refrains from criticizing others close to him, no matter their imperfections.
The best would seem yet to come for this classic high achiever.
Poag is enrolling this fall at the University of Virginia, where he will receive essentially a full scholarship from federal, state and university dollars.
He has won an $8,000 Access College Foundation scholarship from U.Va., along with a $7,500 grant as the Sports Backers/Richmond Times-Dispatch male Scholar-Athlete of the Year.
In Charlottesville, he plans to continue wrestling as a walk-on while majoring in aerospace engineering, a field concerning aircraft and spacecraft.
"I've always been fascinated with planes," Poag said.
Asked about career goals, he quickly offered, "Someday I want to build my own plane."
Prepare for takeoff.
Superman, meet Corvell Poag.