14's the charm for MLB pitcher Edwin Jackson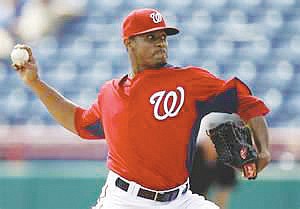 Pitcher Edwin Jackson may need to glance at the front of his jersey to remind himself which Major League Baseball team he plays with.
After signing with the Toronto Blue Jays on May 11, Jackson has become the most traveled player in the annals of the game.
The Blue Jays are his 14th team in a career that started in 2003 with the Los Angeles Dodgers.
Jackson and pitcher Octavio Dotel, who played ball from 1999 to 2012, had been tied for most teams with 13.
Jackson, who was born in Germany to an American military family, pitched last season for the Oakland Athletics. He has a 104-123 career record, with a 4.36 earned run average and 1,456 strikeouts. He has pitched in 394 major league games.
The 35-year-old was an American League All-Star with the Detroit Tigers in 2009 and hurled a no-hitter for the Arizona Diamondbacks in 2010.
Jackson's travelogue, which includes two stints with the Washington Nationals:
• Los Angeles Dodgers (2003-2005)
• Tampa Bay Rays (2006-2008)
• Detroit Tigers (2009)
• Arizona Diamondbacks (2010)
• Chicago White Sox (2010-2011)
• St. Louis Cardinals (2011)
• Washington Nationals (2012)
• Chicago Cubs (2013-2015)
• Atlanta Braves (2015)
• Miami Marlins (2016)
• San Diego Padres (2016)
• Baltimore Orioles (2017)
• Washington Nationals (2017)
• Oakland Athletics (2018)
• Toronto Blue Jays (present)