VSU Trojans their own biggest opponent in 44-21 loss to NSU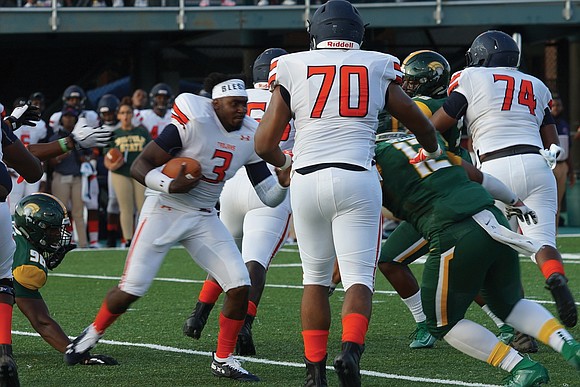 Turnovers taste great fresh off the griddle, but can cause indigestion on the gridiron.
Virginia State University is 0-1 largely because of its inability to hang on to the football.
A whopping six turnovers—four lost fumbles and two interceptions—led to the VSU Trojans' 44-21 loss before a crowd of 15,538 people last Saturday at Norfolk State University.
Twice, the Trojans lost a handle on the ball inside the NSU 5-yard line. VSU left Dick Price Stadium with a huge "What if?" on its mind.
Some might suggest VSU's biggest enemy was wearing orange and blue compared to the opponent wearing green and gold.
Cleaning up the spilled turnovers will be a primary mission as the Trojans play host to the University of North Carolina-Pembroke at 6 p.m. Saturday, Sept. 14, in Ettrick.
UNC-Pembroke, of the Peach Tree Con- ference, opened last Saturday with a 27-21 win over CIAA affiliate Winston-Salem State University.
Aside from the turnovers, VSU Coach Reg- gie Barlow's NCAA Division II squad was impressive against NSU of the next-level-up FCS. An upset was in the making except for the miscues. VSU outgained the NSU Spartans 502 yards to 430 yards and had 25 first downs to the home team's 20.
VSU senior quarterback Cordelral Cook passed for 207 yards but suffered two interceptions. Cook also led VSU with 77 rushing yards.
Transfers came up big for the Trojans.
Darius Hagans, a transfer from Alderson Broaddus University in West Virginia, rushed for 52 yards on 10 carries, and Christian Nelson, a transfer from West Virginia Wesleyan College, caught six passes for 84 yards.
K'Jon Coley, a Benedictine graduate who transferred to VSU from the University of Virginia at Wise, led the defense with nine tackles.
NSU quarterback Juwan Carter, a junior from Highland Springs, threw for four touchdowns and 203 yards as the Spartans improved to 1-1.
The Spartans travel to Conway, S.C., on Sat- urday, Sept. 14, to face Big South Conference member Coastal Carolina University at 5 p.m.
VSU's next opponent, UNC-Pembroke, opened in 1887 as a school for mostly Lumbee and Cherokee students from Robeson County, N.C. The team's nickname is the Braves. It is the alma mater of Kelvin Sampson, the current basketball coach at the University of Houston and former coach at Oklahoma and Indiana.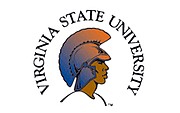 Coming home
Saturday, Sept. 14:
Virginia State University plays the University of North Carolina-Pembroke at VSU's Rogers Stadium.
Kickoff: 6 p.m.
Military Appreciation Day.