Frank Tunstall III, president of Amalgamated Transit Union Local 1220, dies at 70
2/7/2020, 6 a.m.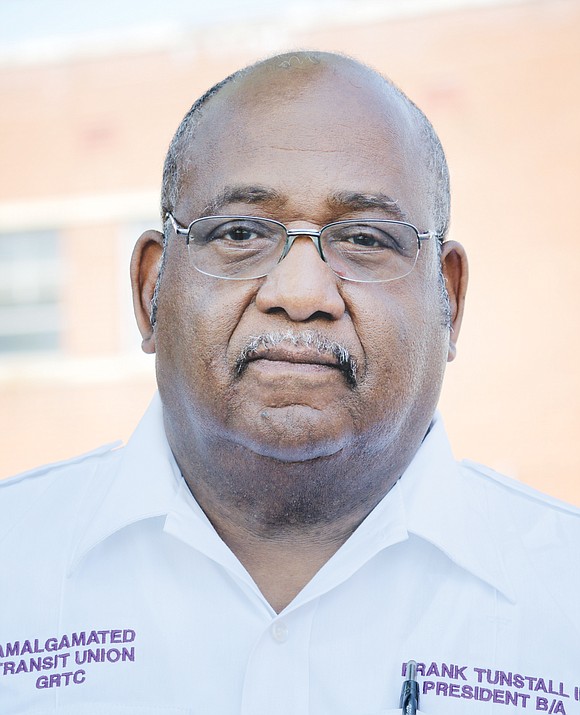 Frank Tunstall III, the veteran president and business agent for GRTC's unionized bus drivers, has died.
Mr. Tunstall, considered a straight shooter and hard bargainer with the bus company but who also sought to avoid strikes, succumbed to illness Sunday, Feb. 2, 2020. He was 70.
His life will be celebrated at noon Friday, Feb. 7, in the Manning Funeral Home Chapel, 700 N. 25th St. in Church Hill, with burial to follow in Cedar Grove Baptist Church Cemetery in Providence Forge.
Ahead of the funeral, a viewing will take place from noon to 8 p.m. Thursday, Feb. 6, at the funeral home.
GRTC officials joined in paying tribute to the nine-year president of Amalgamated Transit Union Local 1220, who died as the union and company began preparing for talks on a new three-year contract.
"Frank was a dedicated leader who went the extra mile to ad- vocate for his union employees," GRTC Chief Executive Officer Julie Timm stated. "His dedication was reflected in his willingness to work with management to resolve issues."
Born in New York, Mr. Tunstall came to Richmond to take classes at Virginia Commonwealth University and worked for the Bank of Virginia before finding his niche as a union man.
He started working full time at the now closed Reynolds Metals plant on Hull Street while also working part-time as a GRTC driver.
His son, Frank Tunstall IV, said his father got involved in the union at the plant and ran several times for president of the plant's local before finally winning the post.
The Henrico County resident served as president and business agent until 2009 when Alcoa, which purchased Reynolds in 2000, closed the plant and laid off the 500 employees, his son said.
Mr. Tunstall then turned to the ATU local, where he was elected to the local's top posts in 2011 based on his experience with union work and as a bus driver. He became the key union representative in contract talks with GRTC and in ensuring drivers facing discipline were treated fairly.
"Frank drove the 95 Petersburg Express for a number of years, and his customers loved him dearly," GRTC Chief of Staff Sheryl Adams stated. "When he stepped back from driving and became president of Local 1220, his customers still contacted him whenever they had an issue with the route.
"Frank never wavered from his core ob- ligation of serving the people," Ms. Adams continued. "He will be greatly missed by his GRTC family."
His son said Mr. Tunstall "lived and breathed the union. He believed all people should be treated with equal dignity and had a right to earn enough money to support a family."
Mr. Tunstall also was a role model as a husband, father and grandfather, which "is his most important legacy," said his son, who now lives in Pittsburgh.
Survivors also include his wife of 50 years, Gail R. Tunstall; two other sons, Demond Tunstall and Harold Tunstall; a daughter, April Tunstall, all of Henrico County; and six grandchildren.