Paging Dr. Webb
Political cards lined up for young, Black M.D.-J.D. from Charlottesville
Reginald Stuart | 9/10/2020, 6 p.m.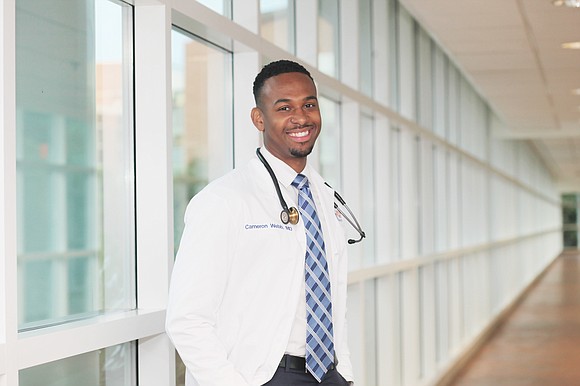 "It was a clarion call for us to do better and find a way to do true reconciliation," Dr. Webb said.
He said he plans to bring his medical skills to the nation's political operating room to work on health care, education, employment and climate issues.
"It's up to me to show folks what I bring to the table," said Dr. Webb. "I aim to be a healer in these spaces," he said, add- ing that a growing number of emerging leaders want positive change in American society.
"When you have enough folks similarly minded, that's when the magic happens," he said, asserting he senses a growing push for health care for all, an improved criminal justice system and more work on ecology and the climate.
Dr. Webb's service in the Charlottesville community quickly caught the eye of Dr. Wesley Bellamy, then vice mayor of Charlottesville and now interim chairman of the Department of Political Science and Public Administration at Virginia State University in Ettrick.
"He's been very entrenched in the community," said Dr. Bellamy, who is also a pre-law adviser at VSU. The two volunteered putting together COVID-19 testing for Charlottesville communities, Dr. Bellamy said. "He's a unifier and energized different constituencies across the city."
The upcoming election raises the possibility of Virginia gaining its third African-American member of Congress in the 11-member delegation. The two others, Rep. Robert C. "Bobby" Scott, who has represented the 3rd District Hampton Roads and Peninsula area since 1993, and 4th District Rep. A. Donald McEachin, who has represented Richmond, Petersburg and points south and east to Chesapeake since 2017, are running for re-election in November.
Dr. Bellamy said the 5th District race "will be a complex race, for sure." Yet he echoes others in noting the political cards have stacked in Dr. Webb's favor so far. In sweeping the June primary, Dr. Webb won approximately two-thirds of the 50,000 votes cast.
He now faces off with hard line conservative Republican Bob Good, a former athletics associate at Liberty University and a former member of the Campbell County Board of Supervisors. Mr. Good defeated incumbent Rep. Denver Riggleman in a two-way GOP nomination contest in June.
Dr. Webb said he has taken nothing for granted in this congressional contest, given its mixed political history and knowing it has not been represented by a Democrat in 10 years.
"We know a lot of people," he said humbly, noting he has talked with hundreds of people by phone, at virtual political meetings and at occasional, but small in-person gatherings.
He said he and his team "will do what we can."